Posted 23rd September 2019 | 6 Comments
There has 'never been a better time' to invest in rail freight–report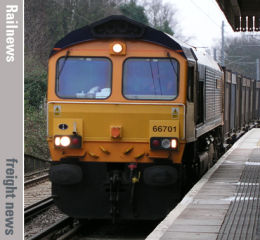 A NEW report published by the Rail Freight Group today is outlining how an 'ambitious growth strategy' for rail freight over the next ten years could be worth between £75 billion and £90 billion in environmental and economic benefits.
The study has been carried out by Stephen Joseph Associates, whose director was the chief executive of the Campaign for Better Transport, previously Transport 2000, for 30 years until 2018. Stephen Joseph is also visiting professor at the University of Hertfordshire's Smart Mobility Research Unit.
The study calls for a 'new approach' from national and local government, as well as new investment from the industry. The conclusion is that this 'could unlock growth significantly in excess of current projections'.
Some of the detailed proposals include increased and greater investment in the Strategic Freight Network, electrification of core routes, new rail linked terminals alongside reforms to planning laws, increased grants and new high speed freight services to city centres. Road pricing could also be used to encourage a shift from road to rail.
The group's director general Maggie Simpson said: 'With renewed focus on the environment, and with new trade opportunities on the horizon, there has never been a better time to invest in rail freight. This report shows how a strategic and targeted programme from Government could encourage new private investment and unlock very significant benefits for the country.'
Reader Comments:
Views expressed in submitted comments are that of the author, and not necessarily shared by Railnews.
The problems with rail freight are essentially a high cost base, very poor asset utilization, obsession with big heavy trains as the only service model and a wholly inadequate infrastructure in terms of gauging to accommodate hi-cube containers and standard sized (4.0m high) tri-axle semi-trailers on flat cars on major axes. The loss of coal ripped away volume, revenue and profits. The big slow train model is not what the logistics sector wants. Any solution built around inter-modal to service domestic traffic needs terminal dwell times of < 60 minutes.

The case for bored out routes (W12+) between major cities (Liverpool-Hull, London-Birmingham-Manchester/Liverpool-Glasgow and something equivalent on the east side of the country might be a better and more credible option than HS2.

Intermodal may be seen as a growth area for business BUT only if the FOC is very careful to spread the risk can profits be made. Obtaining contracts for whole trains or at least a fixed number of wagons is essential marketing to ensure a return. I recently observed the GBrf operated Teesport - Doncaster I Port working. All 45' containers on megafrets - fully loaded but only about nine or ten twin sets. If GBrf is marketing it they are losing money.

I agree that the potential for additional rail freight may be available, but what impact Breixt will have (if it happens) is an unknown so until the dust and fall out from this happens, now would not be a good time to seek funding for such a study

One main growth area is "Intermodal". Containers to/ from ports is a particular success.

20 years or so ago, the "Charterail" system for taking road semitrailers on rail had a brief beginning , but then disappeared due to machinations of some sort. The restricted British loading guages meant the semitrailers were best suited to carriage of higher density freight. As some factories / warehouses are configured for semitrailer usage rather than ISO containers, could the Charterail system make a reappearance?

There are strong signals that there is considerable suppressed demand for rail freight. However in most instances rail transport is just not viable, either because of the total absence of rail connections to major industrial areas, or the staggering cost of infrastructure tweaks to accommodate new rail freight movements (the bill for a short siding nowadays could probably buy you a small Caribbean island).

The government is no less anti rail freight in 2019 than in was in 1960 - they seem more interested in creating cycle paths than a 'strategic freight network' - so don't expect any change in the near future.