Posted 24th October 2018 | 2 Comments
'Brexit-busting' rail freight terminal extension opens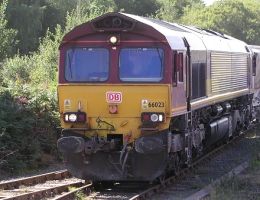 A MAJOR extension to a rail freight terminal handling steel is opening in the West Midlands today, following an investment of £6 million by DB Cargo UK.
The terminal, in Knowles Road, Wolverhampton, has been more than doubled in size over the past year. Next to the West Coast Main Line, it handles imported steel from countries such as The Netherlands and Sweden. It can now store some 48,000 tonnes of steel, or 3,324 coils.
DB Cargo has described the extension as 'Brexit-busting', and said it was a 'major vote of confidence in the UK's continuing ability to trade and attract inward investment'.
Steel is brought to Wolverhampton by trains from the ports at Immingham, Hull and Boston, and companies using the terminal include ArcelorMittal, Tata Steel and SSAB.
DB Cargo UK chief executive Hans-Georg Werner said: 'Despite all the uncertainty over Brexit, here you have a large German-owned company willing to invest significant sums of money that will greatly benefit British and foreign businesses.
'This investment demonstrates DB Cargo UK's commitment to be the first choice for rail freight in the UK and our confidence in the resilience and sustainability of the international steel market.'
He continued: 'There is buoyant demand for steel from engineering and manufacturing firms in the area and we are delighted to be in a position to work with our customers to help meet this demand.'
Reader Comments:
Views expressed in submitted comments are that of the author, and not necessarily shared by Railnews.
Silly question i know but whats wrong with British Steel?
[We don't import from British Steel (it's here already), so its products don't need to be brought from a port.--Ed.]