Posted 1st March 2019 | 3 Comments
No-deal Brexit could threaten Channel rail freight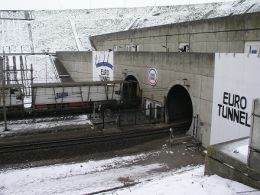 THE Rail Freight Group is putting pressure on the European Commission to improve the measures it is taking to safeguard rail services through the Channel Tunnel, in case of a no-deal Brexit in four weeks from now.
The RFG said the present measures 'focus exclusively on the validity of safety licences for cross-border rail infrastructure managers', which would mean that there would still be a risk of 'severe disruption' from the end of this month.
Companies in the rail freight sector are calling on the Commission to take further action urgently, and make sure that railway undertakings have valid safety certificates and licences as required by three European Directives.
The RFG wants a transitional period of 12 months to allow enough time to arrange revised licencing arrangements, which would be similar to those for road, sea and air transport.
RFG director general Maggie Simpson said: 'Although we hope that the UK government and the EU will avoid a no-deal exit, we must have the necessary provisions to ensure that vital freight trains can continue to operate.
'We welcome the move from the Commission to start establishing this framework, but this must be concluded as a matter of urgency and include all the necessary provisions to keep trains moving.'
Reader Comments:
Views expressed in submitted comments are that of the author, and not necessarily shared by Railnews.
A good opportunity to finally close the tunnel and secure our borders, whilst going back to the tried and tested ways of sending passengers and freight by boat. This will also allow us to conduct correct customs and border checks on everything coming in and going out.

Most freight will in any event not be coming via Europe but through Liverpool and the Western ports as well as London Gateway.

Which is why the Prime Minister Teresa May is considering to have a deal with countries in the EU to continue trade with once the UK is to leave the EU on March 29th this year. Whether it will be a "Deal" or a "No-Deal" Brexit. If we do leave the EU with a deal. Then jobs could be saved in the UK and wants to continue trade and being part of a Deal Brexit. But it could be very different if we were to leave the UK without a deal that could turn disastrous.