Posted 7th June 2018 | 2 Comments
Rail freight cargoes are worth more than £30bn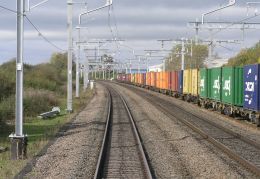 THE value of cargoes carried by British rail freight operators is more than £30 billion a year, according to a new report commissioned by the Rail Delivery Group.
However, the total volume of freight carried by rail has dropped slightly again, mainly because of the continuing decline in coal movements as power stations switch to other means of electricity generation.
The assessment by KPMG, called 'Rail Freight: Working for Britain', says that British businesses benefited by £1.2 billion in productivity gains because of rail freight, and that another £500 million was generated in other economic benefits.
The types of goods carried include whisky, cars, clothing, cement, stone and oil.
Container traffic, however, is buoyant, with more than one in four of the containers that arrive or depart from deep sea ports making their inland journeys by train.
RDG chief executive Paul Plummer said: "Working together, the partnership railway stands ready to do more to increase the benefits that rail freight is delivering for Britain. As we prepare to develop new trading relationships outside the European Union, we can build on the £30 billion worth of goods carried by rail freight, connecting more British businesses with new markets via our sea ports around the country."
Rail Freight Group executive director Maggie Simpson has welcomed the report.
She said: "This work by the Rail Delivery Group highlights the very significant benefits that rail freight is providing each year, at over £60 for each and every household. Working together the rail freight industry and its customers are continuing to invest and develop new services to further increase these benefits."
Meanwhile, the Office of Rail and Road has confirmed that over the year to April 2018 construction and international rail freight were the strongest performing sectors, with growth of 1.5 per cent and 13 per cent respectively. This was despite an overall reduction of 1.7 per cent, which was driven by another 13 per cent reduction in coal traffic.
Reader Comments:
Views expressed in submitted comments are that of the author, and not necessarily shared by Railnews.
What I cannot understand is why there are not more timber/log carrying train from the west country to the north of England or from the forest of Kielder all one sees is lots of log carrying trucks clogging up our roads especially in the west country.Also if there can be a successful container terminal in Bristol with services to london and Felixstowe why not one in Plymouth or one further west? A container terminal some in Cornwall or Devon would not just serve Plymouth but the whole of the west country! Why no container trains from Holyhead ? Holyhead must be ripe for the return of container trains surely?