Posted 23rd August 2019 | No Comments
New hopes as first three Merseyrail strikes are called off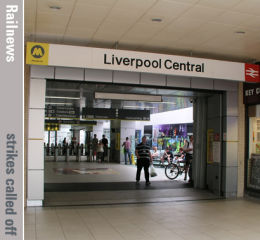 THREE strikes called on Merseyrail by the RMT in the long-running staffing dispute have been called off, after a 'positive meeting' with Metro Mayor Steve Rotheram and MerseyTravel.
The news means that tomorrow's Merseyrail strike will not now take place.
The RMT said 'fresh proposals have been made which represent significant progress' towards addressing the union's concerns.
More discussions are now being arranged, and the strikes which had been called for tomorrow as well as 3 and 5 September have been suspended. However, three further strikes on 30 September, 2 and 4 October are still scheduled for the time being.
Mayor Steve Rotheram said: 'As a result of constructive talks yesterday (21 August) between myself, Cllr Liam Robinson, RMT general secretary Mick Cash and local RMT reps, I am pleased that a potential way forward has been found.
'I welcome the union's decision to call off the strike action planned for 24 August, 3 September and 5 September. This is good news for passengers and underlines that significant progress is being made towards reaching a final resolution to this long-running dispute.'
Meanwhile, the RMT has announced a strike of maintenance staff on Tyne and Wear Metro over the weekend of 6 to 8 September. The staff affected are skilled maintainers, and the RMT is calling for their pay to be the same as that of technicians, who are on a higher grade.