Posted 31st July 2019 | 4 Comments
More strikes called on Merseyrail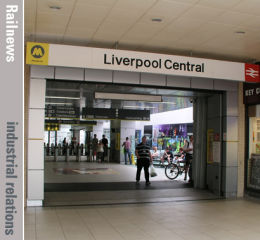 THE RMT has called six more 24-hour strikes on Merseyrail, in the continuing dispute over on-train staffing. The dates announced by the RMT are 24 August, 3,5 and 30 September, and 2 and 4 October.
RMT general secretary Mick Cash said: 'After 15 months of difficult negotiations with Merseyrail at ACAS we have reached a point where our members feel so strongly that the proposed method of dispatch for the new trains is a less safe option that they are prepared to go back to the picket lines and demand an operational role that applies to all Merseyrail stations that the new trains call at.
'Crucially, the train drivers take the same view that the Guard should be responsible for the safe dispatch of the train as they are now. It is these very Guards and Drivers that operate the trains day in and day out and if they are saying that they can't accept the proposed method of operation then they must be listened to.'
Merseyrail managing director Andy Heath responded: 'I have personally been at every one of the 18 ACAS meetings and my whole team has given their full commitment when reaching the March and July 2019 agreements.
'The RMT demanded a second safety critical person on our new fleet of trains and as a result of the ACAS discussions they secured this, subject to funding. However, towards the end of the discussions, the RMT was just making increasingly unreasonable and unrealistic demands and going backwards on key elements of the deal that they had previously agreed to.
'This was always a dispute about the RMT wishing to retain a guaranteed second safety-critical person on all new Merseyrail trains. We delivered this and this is still not good enough for the RMT. The RMT – twice in the space of a couple of months – made new ultimatums which are inconsistent with their original demands.
'I am now struggling to comprehend what this dispute is really all about. I have never seen the likes of this in over 30 years of working in the rail industry.'
Reader Comments:
Views expressed in submitted comments are that of the author, and not necessarily shared by Railnews.
Whilst Mick Cash is General Secretary of RMT, I don't think he is entirely to blame for the series of disputes over the past few years. It seems to me that there is a great deal of militancy in both the national executive and locally and Cash, who is probably not decisive enough, may be continually out-voted when it comes settling disputes with the individual TOCs. I believe that Bob Crowe would have handled matters differently and disputes settled to everyone's satisfaction.

Any reasonable RMT member should consider voting out Cash and vote in someone who understands what "negotiate" means.

The RMT are laughable. I hope they lose all support amongst Northern politicians and passengers. In the eyes of the Luddites, brand new trains need 19th century working practices. Ding ding.... Ding ding! Pathetic

Bite the bullet Merseyrail and go to pure DCO!