Posted 24th July 2019 | No Comments
24 July: news in brief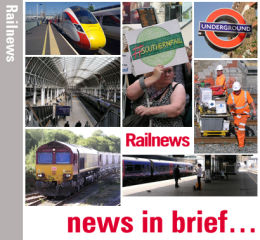 Hot weather slows down trains
TRAIN operators in England are warning that very hot weather is expected to slow down their trains, particularly tomorrow, when temperatures in the London area are forecast to reach 37C. Network Rail says rail temperatures can be 15C higher than the air temperature, which means the rails could top 50C, making buckling more likely. In response speed limits are being imposed, because slower trains are less likely to cause distortion in the track. Southeastern, Southern, Gatwick Express and Thameslink services will be reduced, so frequencies will be lower and journey times longer. It is also likely that many other operators will be affected by the heat, including LNER, GWR and Northern. The temperature is expected to be lower on Friday.
RMT members vote for sleeper strike
THE RMT says its Caledonian Sleeper members have 'voted overwhelmingly' in favour of a strike and action short of a strike, because of what the union describes as 'intolerable pressure on staff' following the partial introduction of new trains. The CAF-built 'hotels on wheels' have been running on Lowland routes since the spring, but their introduction on Highland services has been delayed repeatedly. There is currently no date for their introduction north of the central belt. The RMT said its members are in favour of industrial action by more than ten to one, and the next steps will now be considered by the union's national executive. RMT general secretary Mick Cash said: 'Our members on the Caledonian Sleeper are sick and tired of paying the personal price for the botched introduction of the new fleet and that is why they have delivered this overwhelming vote for action. It is time for SERCO to wake up and take note of the appalling working conditions their mismanagement has lumped on their staff.' Caledonian Sleeper managing director Ryan Flaherty said he was 'deeply disappointed'. He continued: 'I believe we have shown a real commitment to dealing with the issues the RMT has raised and indeed there was an acceptance on all sides that progress was being made. We remain open and willing to engage in further talks.'
New committee to oversee Scottish railway policing
A NEW sub-committee has been set up by the British Transport Police Authority to keep track of railway policing in Scotland. The move follows delays to the proposed merger of British Transport Police north of the border with Police Scotland. Although legislation was passed in 2017 there was widespread criticism, and justice secretary Humza Yousaf has conceded that it might never be put into effect. The Scottish Railways Policing Committee will be chaired by Scotland's member of the BTPA Bill Matthews and will include members of the Scottish Police Authority, which the Scottish Government said would give the SPA a greater say over railway policing.
Old Oak demolition completed for HS2, but questions remain
HS2 HAS completed the clearance of the former Great Western Railway sheds at Old Oak Common, as work continues to redevelop the site as a 'super hub' for HS2 and the Elizabeth Line. The demolition of the enormous sheds – big enough for more than 600 double-decker buses – was described as a 'key milestone' by HS2. The new station is set to be one of the busiest interchanges in Britain, with around 250,000 people passing through every day. Meanwhile, the question of HS2's rising costs remains unresolved, and the project has been placed in further doubt by the appointment of Boris Johnson as prime minister. He will be seeing the Queen later today, to receive her formal approval of his appointment. The first part of a cabinet reshuffle is expected tomorrow, amid predictions that a new transport secretary will replace Chris Grayling later this week.