Posted 19th September 2018 | No Comments
Plan to merge BTP and Police Scotland 'may never happen'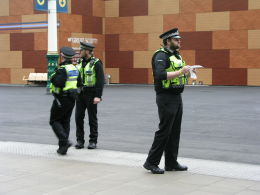 A PLAN to devolve railway policing in Scotland by merging British Transport Police with Police Scotland has gone 'on hold' indefinitely.
Justice secretary Humza Yousaf has admitted that the controversial proposal may now be abandoned, although an Act of Parliament authorising the merger has been passed.
He told MSPs on 18 September that there was still a 'pressing need' to find 'interim arrangements', although he gave no details.
The devolution of railway policing was one of the recommendations of the Smith Commission in 2014, but politicians from the different parties at Holyrood were unable to agree over how it should be done. It was to have taken place in April 2019.
If it had happened, it would have been the latest in a series of police reforms introduced by the ruling SNP, which amalgamated the former eight regional police forces into a single organisation, Police Scotland, in 2013.
Mr Yousaf said: 'For me the prudent way of approaching this would be to examine and explore what options there are for interim arrangements to give best effect to the Smith Commission in terms of railway policing, give it a period of time, and that could be open to discussion, and therefore keep that under review."
He continued: 'It could be we get to a position where the interim arrangements satisfy us universally, the political parties around this table, the stakeholders involved. [If] after … a few years of those arrangements being in place that we are universally satisfied that the accountability has been demonstrated, that we have the best model in place not just to maintain the safety but enhance the safety of the travelling public … we would have to look at whether the legislation would be commenced or not.'
The proposal had been opposed by the Labour Party and rail unions. In July, TSSA general secretary Manuel Cortes said: 'Our members have been campaigning against this wholly unnecessary merger from the off. Academics, the police watchdog, police officers, passengers and our members all agree that bringing together the BTP and Police Scotland is unnecessary, unwise and downright dangerous.'
BTP Federation chairman Nigel Goodband said: 'We welcome the view that full integration may not be necessary. Clearly accountability is a concern and we understand that. There are several ways to achieve this and we look forward to meeting the cabinet secretary to discuss the impact on our members.'
The need for BTP as a separate police force for the railways has been questioned from time to time in England and Wales as well. Policemen had been employed since the earliest days of railways, and one of their original jobs was train regulation as well as guarding the lines. BTP was created in 1949 when an Act of Parliament amalgamated the existing company-based forces. The separate London Transport force continued to exist until 1960.
Last year, the Conservative Party manifesto proposed combining the Civil Nuclear Constabulary, the Ministry of Defence Police and the British Transport Police as a 'national infrastructure police force', but no legislation has yet been published.