Posted 3rd June 2019 | 5 Comments
Arriva takes franchise leak claim to court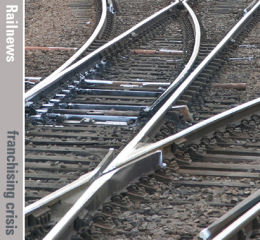 ANOTHER legal action has begun against the Department for Transport over its franchising process.
It has been confirmed that Deutsche Bahn subsidiary Arriva has lodged a High Court Claim about the award of East Midlands to Abellio on 10 April, which alleges that Abellio was sent an email containing confidential information submitted by Stagecoach.
Stagecoach, which had three of its bids rejected, is already suing the Department over arguments about how much risk a franchise operator should be expected to take over pensions, which led to Stagecoach bids for East Midlands Trains, South Eastern and West Coast Partnership being rejected as 'non-compliant' in April.
In the case of West Coast Partnership, Stagecoach is being supported by Virgin and SNCF, who were also members of the consortium.
Arriva's bid had also been ruled 'non-compliant' in its handling of risks.
The DfT maintains that it does not discuss legal cases, but has said it remains confident that its processes were 'robust'.
Analysis
The multiple legal claims on the desk of transport secretary Chris Grayling are further blows to the franchising structure, which had already seemed increasingly unlikely to survive, writes Sim Harris.
There have been signs for several years that the private sector, on whom the structure depends, was becoming disenchanted.
National Express Group sold its last franchise, c2c, to Trenitalia in February 2017, and indicated that it was unlikely to try again in Britain, altthough it does have rail franchises in Germany.
Another sign of nervousness has been the increasing numbers of multiple owners. Fewer companies seem willing to shoulder all the risks by themselves.
Abellio had planned to bid for Greater Anglia in company with Stagecoach, and when Stagecoach withdrew Abellio went on to win by itself. But having done so, it then sold a 40 per cent stake to Mitsui.
The collapse of the Virgin Trains East Coast franchise last year was another negative sign, although the Intercity East Coast franchise has been lost twice before by bidders who over-estimated the revenues and could not pay the increasingly optimistic premiums which the DfT had apparently believed were achievable.
FirstGroup is also now showing signs of strain, and says it is more likely to concentrate in future on its USA businesses. It is set to dispose of its bus division in Britain, either by outright sale or some other form of 'separation'.
First's Rail Division is sounding warnings about the finances of South Western Railway, while its Great Western Railway contract is currently due to end in March next year, although further Direct Awards could take it on until 2024. Whether FirstGroup will now be willing to accept any further extensions is another matter.
Keith Williams, who is running the DfT's Rail Review, has already indicated in two key speeches that franchising 'cannot continue in the way that it is today. It is no longer delivering clear benefits for either taxpayers or farepayers'.
Mr Williams is due to report his conclusions later this year, and it seems inconceivable that he will not follow through and recommend the abolition of the present franchising system.
Attention will then turn to its replacement, and the question which will then be raised is what role the private sector might play in future – if it plays any part at all.
Reader Comments:
Views expressed in submitted comments are that of the author, and not necessarily shared by Railnews.
It's not this one incident, it's a long history of incompetence from the DfT as far as running franchise competitions & franchises go..

One misplaced email sent to the wrong East Mida bidder by (surprise, surprise) inept public sector Network Rail, does not invalidate the franchise system.

Meanwhile the William's Review is a complete waste of time and money. If you want to reenergise the railway, take a look at the report by the Competition and Markets Authority. More competition is the way ahead, and this is another reason to support HS2 (albeit dwarfed by the need for additional capacity).

Goodbye franchises, hello concessions.
Pay a fair fee to the operators with some bonus/incentive for good performance, cleanliness, etc. Revenue risk stays with the government (that alone should eliminate millions paid to lawyers to come up with new crazy ideas for "risk sharing"). Let the concession holder suggest changes in calling patterns, additional services, etc. (based on their experience as the operator, experience the DfT does not possess) that could improve passengers satisfaction and bring in additional revenue. But PLEASE do NOT leave the DfT in charge of deciding on that. We need an arms length body like an SRA v2 that knows the rail business. Far too much turnover and incompetence in the DfT rail division, as has been proved time & time again.

Bring back the Big Four, that's what I say.