Posted 16th May 2018 | 6 Comments
'Disappointed' Stagecoach loses East Coast franchise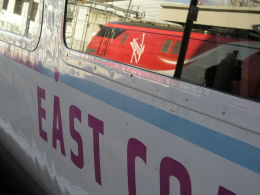 TRANSPORT secretary Chris Grayling is to take over the Virgin Trains East Coast franchise, after talks over a possible direct award for Stagecoach and Virgin to replace the present loss-making contract failed to reach agreement.
The Government has now been forced to take action three times since 2006 over problems affecting the Intercity East Coast franchise. The chair of the Commons Transport Committee Lilian Greenwood said it was 'a very sorry tale'.
Majority East Coast shareholder Stagecoach Group said: "We have now been advised by the Department for Transport that the secretary of state plans to announce today that he intends to appoint the 'Operator of Last Resort' to operate InterCity East Coast."
Stagecoach confirmed that negotiations had been under way over a new direct award to replace the present franchise, which began in March 2015 and should have run until 2023. At the end of November last year, it was cut back to 2020.
Chief executive Martin Griffiths said: "We are surprised and disappointed that the Department for Transport has chosen not to proceed with our proposals.
"We believe our plans offered a positive, value-for-money way forward for passengers, taxpayers and local communities, ensuring the continuation of the exciting transformation already underway on East Coast and a smooth transition to the Government's new East Coast Partnership.
"However, we respect the Government's decision. We will work constructively with the DfT and the operator of last resort in the weeks ahead to ensure a professional transfer to the new arrangements, supporting our employees and maintaining the same clear focus on our customers as we have over the past three years.
"Today's decision should not detract from the hard work and dedication of our people at Virgin Trains East Coast, who have been central to the transformation we have been delivering for our customers over the past three years. During that time, we have attracted more passengers, greatly increased investment, achieved industry leading customer satisfaction and made significant payments to the taxpayer to reinvest in public services."
Lilian Greenwood, who chairs the Commons Transport Committee, said: "It is a very sorry tale.
"Let the Secretary of State be in no doubt – my Committee will be looking closely that what has happened, the choices he made in the run up to this decision and his plans for a new partnership. It is important that the Secretary of State is held to account not just for his policies but his implementation of them.
"The Secretary of State promised that he would publish a full appraisal of the options assessed. I look forward to seeing this as soon as possible and we will look at the Department's analysis very carefully."
The East Coast franchise was one of only two in 2016-2017 to make a net profit for the DfT. After the effects of the Network Grant had been taken into account, Virgin Trains East Coast yielded £20.8 million for the Treasury. South West Trains was also profitable, paying £137.6 million.
Anthony Smith, chief executive of the independent watchdog Transport Focus, said: "Whichever organisation runs East Coast services, under whatever new arrangements, passengers will be looking for the quality of current services to be maintained and built on. East Coast is currently the top-rated franchised train service in Great Britain – with 92 per cent overall satisfaction with the last journey in the latest National Rail Passenger Survey.
"While reliability must continue to improve, and promised and new investments made, passengers will continue to judge services by the performance on the day of the train company and Network Rail, value for money, cleanliness of the train and crowding levels.
"Having more stability in the underlying contract between Government and the train company will help achieve these things that matter most to passengers."
Reader Comments:
Views expressed in submitted comments are that of the author, and not necessarily shared by Railnews.
We all know the fragmented franchising of the UK rail network has been a failure since day 1. All of the 'passenger train operators' are or were subsidised to a greater or lesser degree - the whole idea of breaking the nationalised system up in this way seems inevitably to have led to subsidies for a private sector that appears to be less than able.

Another few more millions wasted on repainting all the trains again !
[With luck, it should mean little more than a few hundred vinyls. Over the past few years, full repaints have mostly only occurred when the vehicle concerned would have been due for it anyway. When the last nationalised East Coast took over from National Express in November 2009, there were still plenty of Mk4s in GNER dark blue to be seen.--Editor.]

The first question should be - Should Stagecoach and Virgin be allowed to submit tenders for future awards for say the next 5 years ?

However, it's hard enough getting bidders for franchises without eliminating them especially for a Transport Minister wedded to dogma of privatisation!

Of course if one puts this taking back control of ECML and the re-configuration of the TSGN franchise On Delivery of Thameslink Project then an opportunity arises to look at all services that use the ECML and GN from Kings Cross and Moorgate to see if Network changes could improve the situation in the future.

of course transfer of services from Moorgate to TFL Overground could be a possibility although like on other lines the services go beyond the GLA boundary but if TFL can provide services to Reading on Elizabeth Line then why not Hertford North and Welwyn Garden City?

One solution give Network Rail is now state owned would be to bring back Network Southeast and operate it as a board with Mayor of London and representatives from Home Counties to deal with cross boundary services?

"Round and round they went". These problems won't be solved until the powers that be do away with the franchising model and rethink the optimum organisational structure for a privatised passenger railway.

So the East Coast is being re-nationalised after everyone got their figures wrong about growth - again. (Both Department of Transport and Virgin/Stagecoach) Lets see how this new Government owned Company gets on, and whether it can save Taxpayer money. There are other Rail Franchises said to be in financial trouble and they may well need taking over sooner rather than later. However Private Firms losing money means the Taxpayer isn't and therefore benefiting. Maybe growth in passenger numbers is now at an end, - slightly worrying for everyone.