Posted 19th October 2018 | 3 Comments
Greater Anglia funding crisis: union says 'renationalise'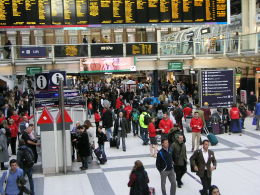 ABELLIO has been forced to subsidise a second British franchise to meet premium payments.
Talks are underway with the Department for Transport after it emerged that Greater Anglia has needed support of £80 million over the past two years, apparently as a result of what Abellio believes are distortions in the franchising model. The Dutch company, which is the international arm of Nederlandse Spoorwegen, had already propped up ScotRail with £10 million. It owns 60 per cent of Greater Anglia after it sold the rest to Mitsui in March 2017.
GA has paid additional premiums under a condition known as the 'Central London Employment' clause, which is part of its franchise contract. This is intended to reflect the job market, and to prevent operators in the south east drawing exceptional profits when times are good, In turn, they are compensated for falling demand.
However, it appears that the formula has been working against Greater Anglia, which has not been earning enough revenue to justify the increasing premiums.
Abellio has denied that its problems are similar to those which caused the Virgin Trains East Coast franchise to be terminated earlier this year.
A spokesman said: 'The agreement for the East Anglia franchise includes a risk sharing measure known as the CLE mechanism. This was intended to provide protection for the operator and the Department for Transport against revenue fluctuations as a result of dramatic changes in the London economy.
'However, it is now widely accepted that CLE is a flawed mechanism that does not deliver on the intended aims. We are therefore working with the DfT to develop and implement more effective risk sharing models.'
The Greater Anglia franchise includes an ambitious commitment to replace all its existing trains, and new fleets are now being built by Bombardier and Stadler. Abellio said the present problems would not affect the delivery of these trains.
Meanwhile, TSSA general secretary Manuel Cortes has called for the franchise to be terminated.
He said: 'There is only one clear way out of this mess before things really become serious for passengers – put Greater Anglia in public hands. This looks like being just the latest example of a bust and broken rail franchising model. The travelling public deserves better, Britain deserves better, we need a nationalised rail service.'
Greater Anglia has already come under fire recently over the standard of performance from London Liverpool Street. Transport minister Jo Johnson told the Commons on 11 October that the government is working closely with Network Rail to 'drive down delays and cancellations'.
He told MPs that £46 million had been pledged for upgrades on the Liverpool Street to Chelmsford line between 2014 and 2020, and that GA could always reduce its fares as compensation for delays. He also promised that performance levels would stay under review.
Reader Comments:
Views expressed in submitted comments are that of the author, and not necessarily shared by Railnews.
Leaves on the track - union says "renationalise".
Manuel Cortes loses car keys - union says "renationalise".

Seriously though, this does indicate yet again the DfT is incapable of managing franchises. It seems concessions are the way to go.


Once again the folly that is the franchise system is exposed for the sham it is.

Rail customers, taxpayers & rail employees expect an operation that provides a safe & punctual railway. Again & again as the detail of the franchise contracts are exposed this is far from the motivation driving the detail of the agreements reached between the successful bidders &. DfT.

To be fair to Abellio they have committed to ambitious plans to transform the Anglia franchise. However if that ambition is to be hobbled by a dubious financial settlement then serious questions require answers. For too long these answers have been suppressed in the name of commercial confidentiality. Time now to expel the spreadsheet mechanics from the decision making process who are only draining value from the industry & replaceing them with mangers committed to adressing the basics of running a safe, punctual, reliable ralway.