Posted 23rd April 2019 | 4 Comments
Vivarail's D-Train enters service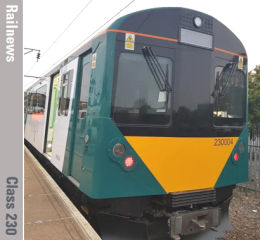 THE first example of Vivarail's refurbished D-Trains is carrying passengers on West Midlands Trains.
The inaugural service left Bletchley at 05.16 this morning, bound for Bedford.
Three of the Class 230 units will soon be operating on the Marston Vale line, which is part of the future East West Rail link,
The landmark moment has come at the end of several years of trials for the aluminium-bodied former London Underground D78 cars, which have been extensively rebuilt by Vivarail.
The journey for the redundant District Line trains has not always been easy. The 230s had been due to enter service a couple of years ago, but their introduction was postponed after an engine fire on a test train at Kenilworth in December 2016. The cause was identified and a solution found.
Jonny Wiseman, who is customer experience director for London Northwestern Railway, which is part of West Midland Trains, said: 'The Class 230 train now operating on the Marston Vale line is a fantastic addition to our fleet – and will increase capacity on this popular line. There has been a lot of anticipation for the introduction of the D Trains from staff, railway enthusiasts, commuters and the local community, and we hope that our passengers find them comfortable and welcoming to travel on. These trains are unrecognisable from their former life on the Underground and Vivarail have created a modern and comfortable train, ideal for this route.'
Vivarail CEO Adrian Shooter added: 'This is a very proud day for all at Vivarail and I am delighted to see the first of our trains in passenger service. Our design and engineering work has been focused on ensuring the Marston Vale trains are of the quality and standard the passengers deserve. I think we've achieved that and I look forward to the feedback we'll receive. The new livery is very appealing but the bespoke artwork really does stand out as something quite special. Our partners at London Northwestern Railway have worked tirelessly with us to bring these trains into service and I thank them once again for all the support and faith they have shown in us as we have grown from a start-up business into a full train manufacturer in such a short space of time.'
The remaining two D-Trains will be introduced on the Bedford-Bletchley line in coming weeks, while another version of the 230s is due to enter service with Transport for Wales later this year.
Reader Comments:
Views expressed in submitted comments are that of the author, and not necessarily shared by Railnews.
I rode this train both ways today and it is a quality product.

Noise isn't high and it proceeds firmly through the Bedfordshire countryside.

If you are a councillor in a town, where you are pressing for a rail reopening, this train will make you believe it is possible.



Well done London Northwestern Railway and of course Vivarail. Hopefully two more Class 230s will join when the new May timetable is set to be introduced. But yes brilliant news.

The experience and knowledge gained by this enterprise will be enormous as they struggled and overcame technical problems. I hope that it will also become a financial success for Vivarail as well.