Posted 10th January 2017 | 5 Comments
Funding for D-Train trial withdrawn after engine fire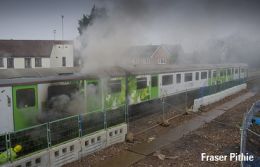 TRIALS of a converted Underground train on a London Midland route have been put on hold indefinitely, and public funding for the trial service has been withdrawn.
The D-Train, developed by Warwickshire-based Vivarail, uses diesel engines to generate traction current for the existing motors, but a test run had to be halted when a fire broke out in one of the engines as the three-car set passed through Kenilworth on 30 December.
Vivarail has launched a full investigation and said it did not expect the incident to have any long-term effect, but the West Midlands Combined Authority has withdrawn financial support because there 'is no longer enough time' to include D-Train proposals in imminent bids for the next West Midlands franchise.
It had been hoped that the first D-Train, now known as Class 230, could have entered trial public service between Coventry and Nuneaton next month.
A spokesman for the WMCA and its partners, which include Coventry City Council and Warwickshire County Council, said future opportunities would be discussed 'for this line and other routes in the region where the shortage of available rolling stock is impacting on capacity and service operation'.
A spokesman for Vivarail said: "We entirely understand the position of our partners in relation to the trial, especially with regard to the franchise timings. We are very grateful to all the partners for the support they have given, and continue to give, us as a local company. We are carrying out our investigations into the cause of the fire and will issue an interim report on that early next week, which will be followed by the full findings within the month. It is business as usual at our end and we are confident in the future of the Class 230."
Reader Comments:
Views expressed in submitted comments are that of the author, and not necessarily shared by Railnews.
153's and 156's are 30 years old and showing it. Reliability and performance leave a lot to be desired and all the "Interior Refreshes" in the world won't address these issues.
What is needed is for someone, somewhere, to bite the bullet and speed up electrification, while following the Anglia example by investing in new bi-mode units. Longer franchises are needed to enable the TOC's to recoup the outlay.

We need a national cascade plan as units will become available across the network to ensure we have sensible fleets rather than penny numbers across a large number of fleets. A good example is the 153/155 fleet which could be turned into a re-engined and disabled retention toileted fleet of 28 three car units. If configured for short haul they could serve the valleys from Cardiff or Scotrail where with the 8 ex Anglia 170's they could free up alll the 156's for service in England.

A real shame to hear about this but at the end of the day, this is why we test trains first! Hopefully the problem can be identified and rectified quickly and that the D-Train can enter public trials soon, even if London Midland won't be running them. Plenty of other opportunities to use these trains on other short-distance routes such as the Severn Beach branch and Wrexham-Bidston line, which would release 75mph DMUs for other areas of the network. This has a huge amount of short-term potential to cover the national rolling stock crisis so let's hope that the train is up and running again soon!

Hopefully Vivarail will overcome this 3rd party engine set back. Britain needs their D-Trains.