Posted 30th October 2018 | 3 Comments
West Midlands D-Trains delayed by 'technical issues'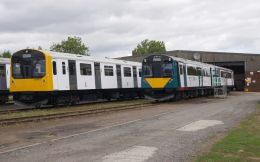 THE planned introduction of Vivarail's 'D-Trains' on a local line for West Midlands Trains has been delayed.
WMT and Vivarail issued a joint statement, which said both partners had 'worked tirelessly to bring the trains into service' on the Marston Vale Line between Bletchley and Bedford when timetables change in early December. This route is set to form part of the future East West Rail service between Oxford, Bedford and eventually Cambridge.
Vivarail has reported 'technical issues' with the first of the converted ex-London Underground trains, which are now officially described as Class 230. It accepted full responsibility and said it was 'disappointed' that the December deadine cannot be met, but that it 'remains confident that the full fleet will be ready for service in the New Year and thanks London Northwestern Railway for their patience and help in resolving the few remaining problems'.
London Northwestern Railway, which is part of West Midlands Trains, said services will continue with existing rolling stock for the time being.
Jonny Wiseman, head of stations for London Northwestern Railway, said: 'We were disappointed to learn from Vivarail that the Class 230 trains for the Marston Vale Line will not be ready for the December 2018 timetable change. We want to reassure passengers that we will continue to run the Bedford–Bletchley service with existing trains until the Vivarail units are available.
'The Class 230 programme is an innovative scheme that will deliver many benefits to local rail users. We will continue to support Vivarail in bringing this new concept to the Marston Vale Line.'
Vivarail CEO Adrian Shooter said: 'My experience in the rail industry means I am fully aware of the problems that can occur when introducing new trains and that one unforeseen event can easily overturn months or even years of planning. That is the case here and at Vivarail we hold our hands up to that fact. However, I am confident that my team will deliver the finished trains with a minimal delay and allow London Northwestern Railway to bring them into service soon. I know that there is a great deal of anticipation to see the Class 230s in service and I am confident that the short wait will be worth it.'
Vivarail has converted former cars from the District Line of London Underground, which date from 1978, by carrying out a major internal rebuild and installing different forms of traction, including diesel engines and an option for battery power.
Five more D-Trains are due to enter service with Transport for Wales next summer, as three-car sets.
Reader Comments:
Views expressed in submitted comments are that of the author, and not necessarily shared by Railnews.
Such a shame that the Class 230 that are scheduled to start passenger service on the Marston Vale Line in December could be postponed until February or in Spring next year. When the remaining Class 230 stocks have been delivered before they are commissioned to start service on the Marston Vale Line. Which they will replace the Class 150 & Class 153 Sprinter DMUs that might be cascaded elsewhere.

An exciting project from an Environmental Point of View. The Word 'Underground' also has Isle of Wight connotations. If Vivarail can get these ex-Tube Trains working well, would they also be able to do it on smaller gauged Tube Carriages in order to supply the I.of W. Railway ? The line is constantly under threat and the upkeep of the 3rd Rail is an expense which may not be needed.

[There is less room for diesel engines, batteries, etc. under the floor of tube stock than the sub-surface stock which came from the District Line and now forms D-Trains. Only Vivarail (or a similar company) could tell us if the traction conversion is feasible with tube stock.--Ed.]