Posted 8th April 2019 | 4 Comments
Open access operators near top of complaints list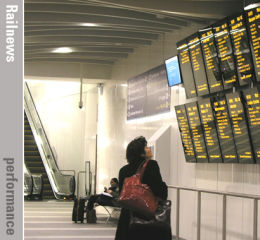 NEW figures of passenger complaints from the Office of Rail and Road show that two open access operators, Grand Central and Hull Trains, were the second and third worst in the rankings.
However, the ORR added that it was discussing data quality with Hull Trains, and that its figure should be 'treated with caution'.
Most complaints sent to operators were about performance.
There were more complaints for each 100,000 journeys about Caledonian Sleeper than any other operator. CS received 270 complaints in the three months to December, an increase of 120 per cent on the same quarter a year earlier.
Grand Central was sent 239, which was virtually the same as the equivalent quarter in 2017-18, while Hull Trains had 153. This, assuming that this total is correct, was an improvement of 41 per cent on the same three months in 2017-18.
Transpennine Express saw a rise in complaints of 79 per cent, with 76 for each 100,000 journeys, but many operators had fewer complaints. These included London Overground, which was down 70 per cent and at the last place in the list with just one complaint for each 100,000 journeys.
West Midlands Trains improved by 50 per cent, to 19 complaints, and Heathrow Express by 27 per cent, with 21 complaints.
The greatest increase in complaints was reported by Northern, whose total of 52 complaints for each 100,000 journeys was up by 290 per cent compared with the same quarter in 2017-18.
Other operators recording fewer complaints included LNER, CrossCountry, Southeastern, Govia Thameslink Railway, TfL Rail and Merseyrail.
The amount of time taken to deal with complaints also varied widely. Nationally, 94.8 per cent of complaints were 'closed' within 20 working days in the third quarter of 2018-19. This was one percentage point higher than the same quarter last year, while 17 out of 23 train operators met the industry requirement to close 95 per cent or more of their complaints within 20 working days.
Hull Trains and Northern saw the largest deterioration in their rates of response to complaining passengers. If the figures from Hull Trains are correct, the company answered just 5 per cent of complaints within 20 days, while Northern reported 73 per cent, which was the next worst.
Those achieving 100 per cent were CrossCountry, Southeastern, Heathrow Express, Govia Thameslink Railway, Chiltern Railways, Merseyrail and Grand Central.
Rail Delivery Group regional director Robert Nisbet said: 'We know that services on some routes weren't good enough last year.' The figures were published just after GWR and Greater Anglia had become the latest operators to offer Delay Repay 15, which is the Department for Transport 's ambition for more franchises over time.
Reader Comments:
Views expressed in submitted comments are that of the author, and not necessarily shared by Railnews.
I wonder if part of this problem is associated with the size and maturity of these operations.

The Open Access operators routinely show at the top of the customer satisfaction tables, but would appear to be near the bottom of the pile when it comes to complaints.

This may reflect that these operators generally provide a reasonable quality service at a reasonable cost. Plus they tend to be fairly good for flexible travel, offering tickets for purchase on-board at a good price. The small fleet and staff numbers mean that they can concentrate on delivering quality.

However, when things go wrong, the size of the operation, and the tight margins, mean that they often don't have the resources to throw at making things right on the day. Examples are when a train fails, often the Open Access operators don't let intending passengers just take the next train going the same way.

In my own experience, having intended to catch a failed Grand Central train from North East England to London, I have been offered an alternative itinerary involving Cross Country and a change at Sheffield onto East Midlands. This adds 2 hours to the intended journey, even though the East Coast trains were running normally and would have got us there only 20 minutes late.

Hull Trains users have faced bus replacement and catching a stopping train to King's Cross when their fleet had issues. Again, LNER was running trains through the affected stations but the HT travellers were highly inconvenienced and arrived hours later than intended. It took a long time for HT to acquire the necessary alternative stock to cover their fleet availability issues.

I've also had my Delay claims rejected or ignored by GC, including on one occasion when I had to stand out in the rain for over an hour waiting for a replacement taxi following an infrastructure failure. One believes that the franchised operator would have been much more forthcoming with recompense.

These are anecdotes, but I suspect they reflect that "their normal performance is generally good, but when something goes wrong their responses are poor," due to their size and maturity.

how are TOCS allowed to say how great they are at customer satisfaction when the reality is the opposite. How were Dull trains allowed to get away with stating, on their site, complaints may take up to eight weeks to resolve. I travelled on Dull trains Dec 08, complaint took 10 weeks to resolve. Everytime I view Dull Trains site it never stops mentioning how great they are. Does the franchise agreement include standards of complaints, customer services. Which bright spark at Dull Trains allowed thought it was a great idea to run three class 180s with the extra unit out of service. As for the latest propaganda on Dull Trains site im afraid the National Rail Passenger Survey needs to be question for its accurecy
The National Rail Passenger Survey, which was carried out in the Autumn of 2018, gives an overall satisfaction rating of 91% for Hull Trains. Most significantly, the open access operator ranked highly on staff service and amenities on its services, showing increases in the majority of areas compared to the previous survey in Spring 2018. Hull Trains also ranked highly in the long-distance sector - 10% higher than most other train operating companies - where overall satisfaction scores were at an average of 81% for onboard services.
Louise Cheeseman, Managing Director for Hull Trains, said: "These scores are very encouraging and demonstrate that the service that our team delivers is highly respected by the majority of our customers. We are pleased that these results show we are heading in the right direction as well as helping us to identify where we can continue to improve our overall customer experience.
"We are under no illusion, however, that work around the reliability of our fleet is finished, and we know that there is still work to be done to do more for our customers. The introduction of the new HST over the next month will bolster our train fleet to improve reliability. This is all in place as we gear up towards an exciting new era for Hull Trains later this year with the introduction of our new fleet of five 802 trains - which are based on Japanese bullet train technology.
"In the meantime, our focus remains on strengthening our punctuality and reliability. It is an area where we are already seeing improvements, with a number of 100% Public Performance Measure (PPM) scores, which determine the punctuality and reliability of the service on a daily basis, in recent weeks."
Notable scores from the survey included the helpfulness and attitude of staff on the train, which was up 5% for a final score of 96% - more than 13% compared to the average of long-distance operators. Other increases included the availability of staff, which increased by 2% to 89% - 24% higher than the long-distance average and the cleanliness of the inside of the train, which at 92% is 11% more than the average. There were also marked improvements in the space for luggage and the provision of information during the journey.
The strength of this score is underscored by another recent independent passenger survey completed by the Consumer Association's Which? in October and November 2018, where Hull Trains ranked third out of all train operating companies for customer satisfaction, with an overall score of 62%. The train company ranked highly for customer service from staff, value for money and on-board experience, mirroring the NRPS scores.or lack off.

Seems like a complete reversal of the situation that had obtained up till recently.

My guess is that this points to the operators becoming disillusioned , owing to stifling DfT control freakery plus growing industrial conflict in the passenger railway industry , and so no longer wanting to stay in it . Perhaps they are giving up "trying / striving" ? Let's hope that Williams will , at last, come up with a better structure for the railway. ( What happened to the other various recent reports ?).