Posted 29th January 2019 | 7 Comments
Passengers' trust in rail is lowest for a decade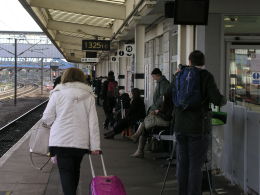 SATISFACTION with rail services has fallen to a 10-year low. In the latest survey from Transport Focus the average score was 79 per cent, the lowest level since 2008.
Transport Focus' National Rail Passenger Survey sought responses from more than 25,000 passengers and identified the main problems as worsening punctuality, the 'timetable chaos' last summer, and what TF described as 'lamentable' strikes.
Chief executive Anthony Smith said: 'Government and the industry must continue to focus on performance. In the longer term the Government's Rail Review must bring about fundamental change.
'Passenger irritation at poor performance erodes their most basic trust in the industry. Passenger frustration at continual fare increases saps confidence in the system to reform itself. Passenger anger during the summer timetable crisis was palpable. A better value for money and more reliable railway must arrive soon.'
Just two out of 25 train operators 'significantly improved', while seven went the other way.
On the bright side, with rising satisfaction scores, were Chiltern Railways and Heathrow Express – neither of which had been affected by timetable problems or disruption related to industrial action.
Seven operators declined 'significantly'. Great Northern, Northern, TransPennine Express, Greater Anglia, Thameslink, ScotRail and London North Eastern Railway all pleased their passengers less than before.
Northern, TransPennine Express and Govia Thameslink (which includes Great Northern and Thameslink) all experienced major problems after the flawed May timetable changes last year, while Northern has been involved in a long-running dispute with the RMT over on-train staffing, which has led to more than 40 strikes so far. ScotRail has been experiencing rolling stock shortages, mainly caused by the late delivery of new or refurbished trains.
Surprisingly, perhaps, the number of passengers who felt they had received value for money rose slightly by an average of two percentage points, compared with the spring scores, but the results varied widely, depending on the reason for the journey. Leisure travellers were happiest, at 64 per cent. Business came next, at 47 per cent, but almost seven out of ten commuters were unhappy, with only 31 per cent saying they were contented with the cost.
Staff are still in the firing line, however. The number of passengers who said they were happy with the helpfulness and attitude of staff on the train fell by another 2 percent, making a total fall of 4 per cent since autumn 2017.
The Rail Delivery Group admitted that the industry was not doing well.
RDG customer experience managing director Jacqueline Starr said: 'Punctuality is the bedrock of satisfaction for our customers and at the moment in too many places, we are not getting it right. Working together, we are investing billions of pounds in a long-term plan to rebuild key parts of the network to improve punctuality while putting thousands of new and refurbished carriages on track to make journeys more comfortable.
'In parallel we are pushing for more fundamental reform to fix the railway for the future, including developing proposals for regulatory change to make the fares system easier.'
Reader Comments:
Views expressed in submitted comments are that of the author, and not necessarily shared by Railnews.
I have the impression that the taking on of a franchise has become a lot less attractive to potential bidders. It seems that when franchises are coming up for renewal nowadays, it can be difficult to attract bidders. Little wonder, then that franchisees are perhaps being less focussed on pleasing their customers now, compared with earlier times since privatisation.
[The main causes of dissatisfaction in 2018 were strikes and botched timetables. The timetable problems were at least partly due to Network Rail. However, I quite agree that franchises seem to be less attractive to bidders these days, while parts of the present system have been creaking.--Ed.]

Eight week wait for Hull Trains to deal with complaints.
Sums it up.

And yes Northern are having their 47th strike action to happen with more strikes to continue on Northern as planned. Its such a shame that Northern is allowing RMT to introduce more strikes and I think there's nothing we can do. Rather than allowing RMT and Northern to continue on with their strikes. Absolute shambles.

As a commuter on Northern in the Manchester area, I find it appalling that the completion of the electrification project has taken so long and three contractors and still we wait for an electric train to run between Blackpool and Manchester via Bolton. This wont happen, I am told, until March/April this year, but we are expected to pay a fare increase, after last years performance with the timetables, 'for investments and improvements to the railway'. These investments had been approved over five-years ago when the Bolton line was the first top receive approval and ring-fenced funding!

On top of that, we are seeing a continued plethora of short-formed trains at peak time and continued RMT strikes. In fact we have not had a weekend rail service for about a year, it returned for all of a fortnight then the RMT stepped in and the rest is history!

There are repeated adverts by Northern proclaiming its wonderful shiny new trains and how they will improve our experience, but no clear indication as to when they make any sort of meaningful introduction on services. Instead we are told they will be drip-fed into service. One assumes then that it will be quite some time before me see any of the tangible benefits these trains are supposed to bring!

We have been promised a new improved more reliable service but between Network Rail, Northern and the RMT there seems to be little, if any at all, evidence of that.

I had to complain to my MP and get him to approach the rail industry to get any sort of idea of when we could expect to see the improvements. Only two out of the four organisations bothered to respond to him!

To that end I would say, it isn't just a case of reliability that erodes confidence, it is the apparent secrecy and utter contempt the rail industry as a whole has for its customers, that erodes confidence in its ability to deliver a competent service.

Gotta praise the DfT; they are doing a great job of strangling the entire industry so that trains do not become too attractive to cars. Couldn't have that now could we...

After the failure to deliver in 2018 the industry has to get it right in 2019. The mantra of increased investment increasingly has a hollow ring. Yes as industry insiders we are aware of the major projects & new rolling stock but as is clear from the Passenger Focus survey the most the most regular customers, those who rely on rail for their daily commute, are the most disgruntled. While many will say that has always been the case the collapse in performance on several major commuter networks of recent years has been brought sharply into focus by the low customer satisfaction on those routes and more alarmingly for the industry by changing travel habits with the decline in season ticket sales.

Through the introduction of new rolling stock some of the worst performing TOC's should be able to improve their satisfaction rating. However after the timetable disasters of 2018 hopefully 2019 will be a year of consolidation with attention to detail in timetabling aligned with TOC's ensuring that they are robustly resources. Attention to detail does not require massive a massive injection of investment.

As the ongoing disputes show trust has broken down all round. Surely in the interests of the industry it is time to call a truce and get back to running a quality seven day a week product?

I spend a lot of time on the Internet defending our Railway Industry, from Network Rail to the Franchise Holders. But I couldn't work out how the huge Timetable Change last year came to be such a mess. The Railway Industry gets such a bad Press in Newspapers that they really shouldn't be giving the Press such a 'Free Ride' with stories like that one. We know delays and over-runs of cost and time will happen from time to time, but not the whole fiasco of a major timetable upgrade which neither Network Rail or the Operators seemed to be prepared for at all.