Posted 2nd April 2019 | 2 Comments
Government supports Borders Railway study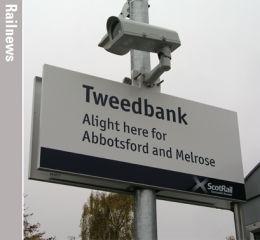 THE government is to back a feasibility study which will examine the possibility of extending the Borders Railway from Tweedbank over the rest of its former route to Carlisle, via Melrose and Hawick.
No formal announcement has been made, but the news came from Scottish secretary David Mundell in a letter to John Lamont, who is Conservative MP for Berwickshire, Roxburgh & Selkirk.
Mr Lamont said: 'A full feasibility study will look in detail at the costs and benefits of bringing the railway to Hawick, Newcastleton and on to Carlisle. I'd expect this to look at things like impact on businesses, jobs and tourism as well as the implications of getting freight off our roads.
'With the UK Government now publically backing the study, the ball is now very much in the SNP's court. Back in 2016, the First Minister went to Hawick and promised a feasibility study. It is time to fulfil this promise with some funding and get this campaign properly moving.'
Barbara Elborn, who is secretary of the Newcastleton and District Community Council, said: 'This is a huge leap forward in our campaign to push for the extension of the line through to Carlisle. We can only hope now that our Scottish Parliamentarians also see the benefits of undertaking this wide-reaching study.
'There is absolutely no doubt that the benefits of reinstating the line will be felt by all within in the Borderlands Growth Deal catchment, but a feasibility study that delves deep to understand the full opportunities, and in our view that must include freight, will fully answer all those who doubt it. Those communities who have lived through the last 50 years without the line have no doubts at all about the rewards it will bring.'
The whole route between Edinburgh and Carlisle, known then as the Waverley Line, was controversially closed on 6 January 1969, although it had figured in the long list of proposed withdrawals in Beeching's original report in March 1963.
After many years of campaigning, the section between Newcraighall, Galashiels and Tweedbank was rebuilt and opened in September 2015.
The infrastructure plans were reduced in the name of economy to allow several single line sections. The new route was immediately popular, so that trains had to be lengthened with weeks of the opening, and performance on the route has continued to be criticised from time to time.
Reader Comments:
Views expressed in submitted comments are that of the author, and not necessarily shared by Railnews.
I think that the Borders Railway Line should extend from Tweedbank to Carlisle. That will act as a diversion route if the extension does get the approval to be built.