Posted 7th October 2015 | 7 Comments
Councillor 'taken aback' by Borders Railway demand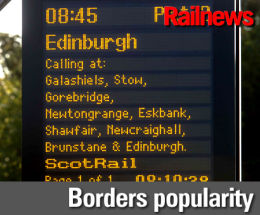 THE number of passengers using the Borders Railway has beaten the most optimistic predictions made for the rebuilt route, which opened on 6 September. The first statistics have caused one councillor who supports the project to admit that he has been 'taken aback' by the results.
It had been expected that the 48km line would attract 650,000 passengers annually, but ScotRail said its trains carried 125,971 people between Edinburgh, Galashiels and Tweedbank in the first month alone. If this demand continues, the line would deal with more 1.5 million passengers in a full year.
Although it remains to be seen if usage drops back when the route has ceased to be a novelty, the early results tend to justify the warnings made by rail campaigners that too much of the line is single track.
Two-car trains quickly proved to be inadequate, and ScotRail has been strengthening some units to three cars.
The Borders Railway provides 192 services each week, so on average each one carried more than 150 people, which explains why two-car trains were not enough for peak services. The line is also catering for steam-hauled heritage specials, and 17 of these will have been operated by mid-October alone.
Phil Verster, managing director of the ScotRail Alliance, said: "The incredible interest in the Borders Railway over the first few weeks highlights what a remarkable achievement has been made by the opening of the new line.
"By helping to create new opportunities for the people of the Scottish Borders, Midlothian and Edinburgh, this line better connects the regions and benefits both the local people and the local economy.
"There is a great future ahead for Scotland's railways, and the Borders Railway is an exciting part of that."
Minister for transport and islands Derek Mackay said: "The historic reopening of the Borders Railway has clearly captured people's interest and I am delighted to see the soaraway success of services and impressive passenger numbers. It is particularly good to see the Borders and Midlothian reap the benefits of being reconnected to Scotland's rail network after an absence of almost half a century."
Councillor David Parker, leader of Scottish Borders Council, said: "I was always confident that the Borders Railway would be a success, but even a passionate railway supporter such as myself has been taken aback by the huge numbers who have embraced the new service.
"We have not only had Borderers using the service for work and recreation but many people from the central belt have been jumping on board to visit our region. The knock-on effect has already been seen, with local businesses such as cafes and restaurants reporting extra trade.
"The aim of the Borders Railway Blueprint programme is for the railway to stimulate growth in our businesses, investment into our region and to create new jobs - already we are starting to see signs of all three and it bodes very well for the future."
Meanwhile, the level of demand seems likely to reinforce existing calls from rail campaigners for the rest of the route to be reopened onwards from Tweedbank to Hawick and Carlisle.
Reader Comments:
Views expressed in submitted comments are that of the author, and not necessarily shared by Railnews.
Glasgow airport rail linked scrapped. Edinburgh Glasgow Improvement Project cut back. Borders line double track reduced. Anyone see a pattern emerging?

If ths SNP really wanted to move people from road to rail, they wouldn't have made these ridiculous decisions. Why not electrify the borders route or extend it by 2 miles to Melrose?

All the above mentioned will eventually be fully implemented (i believe) but at additional cost now. Madness.

....and it's Stow which rhymes with cow! 100% no doubt.*

[*Except that local people who use that pronunciation will also understand the generally-used alternative. The local version will baffle visitors to the Borders and, indeed, from my own enquiries, at least some Scots. Surely effective communication should take priority?-- Editor.]

If your heading to Gillingham from Waterloo then pronunciation will depend on which county you will end up in !

Dear Editor, Re your comment on my letter above, surely the LOCAL pronunciation should be that used on the Borders Railway?? No doubt whatever!

[I asked a Scot how he would pronounce Stow, and he made it rhyme with slow. So if there is a different sound in use, it is very local indeed. Not very helpful to most passengers, then.--Editor.]

There is not and never will be an economic case for taking the line to Carlisle, there just isn't anything there to create demand, and the formation wouldn't allow for enough speed to compete with other modes. It's romantic nonsense, and there are other rail-less towns closer to Edinburgh and Glasgow that are far better cases for investment.

1. Magnificent news re the numbers travelling, but we must wait and see how they settle down after the novelty has worn off......HOWEVER:
2. Those merely-single-tracked new over-bridges are going to return to haunt the planners I fear. Crassly stupid and short-sighted!
3. Why is there no BUS shelter at Tweedbank for passengers switching modes to shelter in during rainy weather?
4. I was told that Stow is pronounced to rhyme with 'cow' by local people; yet on the train public-address it was pronounced as in England, to rhyme with 'no', though the speaker was undoubtedly Scots. Oops!!! You won't 'win friends and influence (local) people' that way!'

[I fear you will never win the placename pronounciation battle in Britain. There are many instances of local practice being at odds with a more generally accepted version, and indeed more than one version is sometimes heard locally. How should you pronounce Shrewsbury or St Austell, for example? I suggest the only conceivable compromise is to go with the majority (if you can define it), whether it is local or otherwise.--Editor]

This is not rocket science, you reopen a railway which should never of closed, communities become reliant on the car, the roads get full, someone agrees to reopen a railway line and then it becomes popular. TS/NR will not admit that the line should have been doubled throughout, appreciate that in some parts that is now not possible but given the capacity issues this line now creates as a consequence of it becoming popular is more ammuniation for campaigners to get the line extended beyond Tweedbank to Carlisle, given how long it has taken to get the line to Tweedbank reopen I wonder how long it will be before there are direct services to Carlisle. If only the DFT would look beyond the cost benefit ratio nonsense and just get on with rebuilidng lines south of the border then perhaps communities which lost so much from the Beeching axe could finally be reconnected with the rest of the national rail network.