Posted 1st June 2016 | 6 Comments
Borders Railway passenger figures ahead of target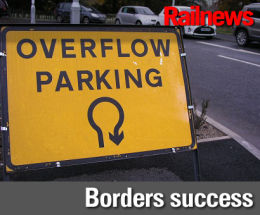 THE number of passengers carried on the Borders Railway during its first six months has exceeded expectations by more than a fifth, and the Scottish transport minister Humza Yousaf has hailed the figures as 'fantastic news'.
However, the totals for each station reveal that the planners were often wrong when they calculated likely usage -- in some cases very wrong.
For example, they thought that just under 19,000 single trips would be recorded at Tweedbank, the line's terminus, but in practice there were almost ten times as many, to the point that an overflow car park was needed to supplant the already apparently generous site within weeks of the opening in September last year. Five times as many people as expected have used Galashiels and Stow.
However, patronage was lower than predicted at Gorebridge, Eskbank, Shawfair and Edinburgh, although the shortfall at Edinburgh was only around 10 per cent.
The biggest gap between prediction and reality was at Brunstane and Newcraighall, two stations in the suburbs of Edinburgh which had already been served before the rebuilt line had been opened beyond Newcraighall. It was thought that there would be 865 single trips in six months from these two stations, but ScotRail has reported more than ten times as many.
Phil Verster, managing director of the ScotRail Alliance, said: "We are incredibly proud to operate services on the Borders Railway - a route which, as the numbers show, is hugely popular with our customers.
"The extremely positive first six months is a wonderful start, and gives us a solid foundation on which to continue to attract new visitors to and from the Borders. We are committed to ensuring the lasting legacy of the Borders Railway."
Trains were so well used during the first few weeks of operation that the two-car sets had to be strengthened to three where possible. A few services were replaced by buses because the trains were being delayed by the crowds.
More recently, rail campaigners have criticised the poor performance on the line, which they claim is the result of including several single track sections which inevitably pose bottlenecks. At times three or more trains a day have been cancelled or delayed, partly because of faults with the new signals, and concerns have been voiced that chronic unreliability could discourage regular passengers.
Campaigner David Spaven had said: "This is a miserable service record. Day-to-day performance has varied widely – particularly in terms of cancellations and trains missing out stops in order to catch up time.
"Overall, this is not an acceptable quality of service – the timetable is just too vulnerable to meltdown when things start going wrong. Transport Scotland were warned years ago by rail industry insiders and railway campaigners that cutting back on the double track would be a foolish economy, and so it has proved. Sadly, significant infrastructure upgrades to the railway are not now achievable in the short-term – but Transport Scotland should at the very least look at hiring in better-performing trains."
Allan McLean, chair of the Campaign for Borders Rail, said: "The Borders Railway has proved to be a huge success. Some of us always knew it would be. Others took a negative view and they have been proved wrong. Confirmation that trains have attracted much larger numbers of passengers than forecast proves that more people are travelling to, from and within the Scottish Borders by public transport. This should be good news for bus services, especially those that connect with trains."
However, the railway scheme had to survive critics, some of whom wanted a shorter line, terminating nearer Edinburgh, while in 2013 the Institute of Economic Affairs had described the project as 'insane'. At that time Dr Richard Wellings of the IEA told the BBC: "Even looking at the official figures, this is just about the worst value project you can find.
"The whole project's insane. The average strategic road scheme has a benefit cost ratio of around five, which is ten times higher than the Borders railway, so this is a gross misallocation of resources, particularly when there are still huge problems on the road network in Scotland."
Dr Wellings, who also opposes HS2, has more recently proposed that the third-rail commuter network south of London should be replaced by a network of guided busways.


Single trip totals
-----------------------
Tweedbank: forecast 18,978 -- actual 183,918
Galashiels: forecast 20,567 -- actual 104,593
Stow: forecast 5,129 -- actual 24,365
Gorebridge: forecast 79,014 -- actual 39,400
Newtongrange: forecast 46,449 -- actual 50,480
Eskbank: forecast 114,568 -- actual 65,672
Shawfair: forecast 54,298 -- actual 9,398
Brunstane/Newcraighall: forecast 865 -- actual 11,344
Edinburgh: forecast 228,156 -- actual 205,203
Total forecast: 568,023 -- actual 694,373

(sources: Transport Scotland and ScotRail)
Reader Comments:
Views expressed in submitted comments are that of the author, and not necessarily shared by Railnews.
its a shame we don't seem to have the same zeal when it comes to line re-opening opportunities in England, especially given developments with cheap to operate light rail vehicles

Its easy to see Blyth-Newcastle service being resuscitated, maybe even a cross-Newcastle service on to Stanley, Annfield plain and Consett !!!!

Who knows ?

....of course the ridership numbers are fantastic.

That's what happens when you give away so many complimentary and sampler tickets.......

I'm not interested in ridership; I want to see projected revenue against actual.

Lets wait few years and see how things mature before we start getting the bunting out and kissing our own rears just yet........ you know; just in case the good old English taxpayers have to get their wallets out for more subsidies......

So with all the extra passengers paying lots of extra unexpected fares will all the extra revenue be used to increase the sections of dual track and provide more capacity or will is go into the Toc/Back pockets? Martin

very well done and the same could be said of the Blyth and Tyne line if someone would get their act together would have same result

It's true – newly-opened stations ordinarily outweigh previous forecasts, although the difference between the predicted usage rates and the actual passenger numbers in this instance is just gargantuan. The planners for this project don't know how to use a calculator!