Posted 4th March 2010 | 1 Comment
Construction starts on Borders Railway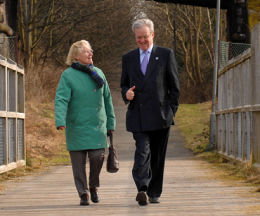 Veteran Borders rail campaigner Madge Elliot and transport minister Stewart Stevenson at Galashiels
WORK on rebuilding the Borders Railway has officially started, with the launch of ancillary work at Galashiels. The project, expected to cost between £235 million and £295 million, will bring passenger trains back to the northern part of the Waverley Route between Edinburgh, Galashiels and Tweedbank.

Despite vigorous local protests, the whole route between Edinburgh and Carlisle via Galashiels and Hawick was closed in 1969, when the last locomotive left the line to the sound of a lone piper. To mark this link with the past, a Pipe Major was on hand at Galashiels when the work of reconstruction was formally launched by transport minister Stewart Stevenson.

He said: "Today the Scottish government sets out the actions being taken to position Scotland's economy for recovery. It is therefore fitting that work now starts on a project which will provide a fast, efficient rail link connecting communities from the Scottish Borders to Midlothian and Edinburgh. When finished, the railway will act as a catalyst for economic growth right across southern Scotland, supporting hundreds of jobs during its construction. It will also increase business development and housing opportunities, while helping promote inward investment."

The Scottish Government is now committed, under the terms of the 2006 enabling Act, to complete the railway. Some preparatory work has been taking place along the route for some time, mainly to clear vegetation.

The competition to choose the contractor who will design, build, finance and maintain the Borders Railway began in December, and initial submissions from interested parties are due back this month. A shortlist will then be drawn up and full tenders invited. The winning bidder will start main construction next year, with completion due in 2014.

Rail campaigners have welcomed the start of the work. Richard Crockett, who chairs the Campaign for Borders Rail, said: "This is excellent news for the future of the Scottish Borders. After the many years the project has been in gestation since we gathered 17,000 petition signatures in support of the railway back in 1999, Borders residents can now look forward to a vast improvement in their regional transport."

The project has also attracted opposition from critics who are doubtful about the need for trains to Galashiels. One Borders councillor, Nicholas Watson, has described the scheme for a line beyond Midlothian as 'a colossal waste of money'. He believes the Glasgow Airport Rail Link, which was recently axed on cost grounds, should have been built instead.
Reader Comments:
Views expressed in submitted comments are that of the author, and not necessarily shared by Railnews.
So huge amounts of money can be found for Scotland and the Borders. Where is the money - and the political will to reopen the 7 mile stretch between Uckfield and Lewes in East Sussex. We have been waiting for a very long time. Andrew Adonis - can we have an answer please ?