Posted 11th March 2019 | 4 Comments
New train deliveries remain stalled as passengers wait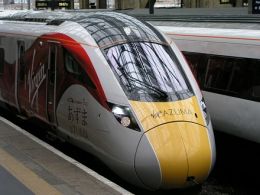 PROBLEMS with software and other technical issues are now delaying the delivery of more than a hundred new trains.
Some lines are making do with reduced services or life-expired trains as a result, while the reopening of one new route has been put back indefinitely until its rolling stock is given the all-clear.
The problems are not concentrated on one manufacturer, either. Bombardier appears to be struggling with its Aventra series, while Hitachi has not yet resolved the difficulties which are preventing the introduction of its Intercity Express fleet on the East Coast Main Line.
An example of the long-awaited 'Azuma' fleet for the East Coast route made its first appearance at London King's Cross as long ago as March 2016, but three years later passengers have yet to travel on one of the new trains.
There had been hopes that the first units would enter service in December, but this deadline was also missed when Hitachi and Network Rail failed to solve problems of stray currents which have been interfering with lineside equipment and CCTV.
LNER, the state-owned operator which took over from the collapsed Virgin Trains East Coast franchise last June, could only say that it was 'continuing to make progress on the delivery of the Azuma trains'.
A spokesman continued: 'Our utmost priority is to ensure that our passengers receive the planned benefits of Azuma and the best possible service from day one. These include improved reliability, greater capacity and significant on-board enhancements.'
Bombardier in Derby is also apparently still mired in problems affecting the software on its Aventra fleets. One result is that there is no date yet for the opening of the Elizabeth Line through central London, where civil engineering work has also fallen behind.
Bombardier's CEO Alain Bellemare said in February that there were now 'fixes' for five projects that 'still need some attention', and that the London problems should be solved 'by the end of the year'.
The line between Gospel Oak and Barking is also badly affected, because the last of the former Class 172 diesel fleet will be cascaded to West Midlands Trains after service on 15 March, leaving a rolling stock vacuum.
Transport for London has managed to find three Class 378 units as a stopgap, but the usual 15-minute headways are being cut to 30mins from 18 March, because the full service needs six trains.
The line's intended allocation of eight Bombardier Class 710 four-car Aventras should have entered service last year, with all available by June, when the diesel leases expired. The rest of a fleet of 54 Class 710s are intended for the Overground's Liverpool Street routes, where the existing ex-BR units which have worked the West Anglia suburban lines for many years are continuing in service for now.
The immediate outlook is grim for Barking-Gospel Oak passengers, although TfL has pointed out that the stopgap trains have four cars rather than than two.
Even so, posters on the route are asking passengers to 'consider using other services' for the time being.
Glenn Wallis, who is secretary of the Barking-Gospel Oak Rail User Group, said: 'TfL has known this was coming ever since January, when it failed to obtain a further sublease on the remaining diesel trains beyond 15 March. So why can't they give passengers the information they need to plan their work, education and leisure journeys?'
TfL's director of rail and sponsored services Jon Fox said: 'We are very sorry for the continuing delay to the introduction of the new fleet of electric trains on the Gospel Oak to Barking line and share our customers' frustration. The manufacturer continue to solve software issues and we hope that driver training will start in earnest soon, which will bring us an important step closer to introducing the new trains.
'Regrettably, despite our efforts, we need to release the last three diesel trains currently being used on the line. So from Monday 18 March we will need to temporarily reduce the weekday service to a half-hourly service. Despite the reduction in frequency, by continuing to use the modified four-car trains overall capacity will remain the same.'
Reader Comments:
Views expressed in submitted comments are that of the author, and not necessarily shared by Railnews.
a simpler solution would be to procure more trains from fewer manufactures and less variants. There are too many small fleets that are useless outside of their intended purpose. These take ages to fix and are unreliable in early service. A bold proposal would be for a central train procurement and ownership body that buys fleets for multiple operators and implements a coherent strategy of build and cascades. Hopefully one that learns from the mistakes from ICEP and is a private body, not government controlled.

Modern trains are too complicated, just like modern cars. When they fail, can the driver do anything to retrieve the situation or, is he helpless? Do they have couplings compatible with rescue diesel locos? Thought not. Why do they unlearn what was learnt? Idiots.

Then why build trains that does have issues. Whilst train manufacturers are still producing more new trains. Whilst fixing the software issues aswell fixing problems with doors, lighting, driver cab windows and much more. Why have so many problems with new trains being built when train operators wants their new trains operating in service. And to replace the older trains that are ageing and sent for storage or scrap.