Posted 6th December 2018 | 5 Comments
Performance falls again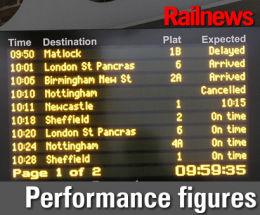 NEW figures from the Office of Rail and Road show that the number of trains running late is rising, and more services have been cancelled.
The number of trains on time nationally in the second quarter of 2018-19 was 85.9 per cent, down 2.5 percentage points from a year earlier, while the number of trains cancelled or 'significantly late' (between 30 and 119 minutes late at their final destination) rose to 4.6 per cent, a rise of 1.1 percentage points.
Not all sectors were the same. The average figures conceal just 80.6 per cent of long distance trains running on time (within ten minutes of booked time at final destination) a fall of 7.1 percentage points compared with a year earlier. The number of long distance trains which were cancelled or 'significantly late' rose by 3.1 percentage points to 7.7 per cent.
The best performing sector was London & South East, with a fall in trains on time (within five minutes) of only 0.6 percentage points to 86.0 per cent, and the number of cancelled or significantly late trains rising by 0.6 percentage points, to 4.7 per cent.
Labour's shadow transport secretary Andy McDonald said: 'The travelling public have already suffered a miserable year of delays and cancellations so it's outrageous that rail users will be hit with another above inflation fare rise in January. At the very least, fares should rise no higher than the Consumer Price Index and be frozen altogether on routes that were impacted by the timetable chaos.
'The inability of the Government to deliver a reliable rail service is playing havoc with people's work and family lives. Labour will take the railways into public ownership, prevent above inflation fare rises and deliver the reliable services that passengers and our economy needs.'
The Rail Delivery Group has apologised for disruption this summer.
Regional director Robert Nisbet said: 'We have one of the most congested railways in Europe and this summer it has been stretched by an unprecedented heatwave and, in some parts of the country, the introduction of the May timetable.
'To ease pressure so customers get the railway they want, we're delivering record investment in infrastructure but this can't come at the cost of today's punctuality. That is why we're working hard to learn the lessons from May, starting with the introduction of the December timetable on Sunday.'
Reader Comments:
Views expressed in submitted comments are that of the author, and not necessarily shared by Railnews.
I wonder to what extent these problems arise due to the operators getting demotivated by the flawed franchise model in which they try to function ?

Our railways are a mess. That's why. Including when there are strikes happening on Northern, South Western Railway and Govia Thameslink Railway.

That performance during Summer 2018 has been dreadful should come as no surprise. Irrespective of ownership, which in the short to medium term has been kicked into the long grass pending the Williams inquiry and other immediate political destractions, it is up to the current industry players to raise their game.

2018 should have been a game changer but instead there had been a catalogue of major projects that have failed to be delivered and or have spectacularly misfired. Against this background it's time for the RDG to change the mantra. Industry insiders are well aware of the investment but too frequently the public & their political representatives are failing to see the rewards.

Against the background of a lame duck Transport Secretary who's fate will ultimately be decided by events unrelated to his brief the industry has to show it has raised it's game. The moratorium on significant timetable change in December is the time for NR working together with the TOC's to concentrate on the knitting and ensure that the day to day plan is fully resourced & deliverable.

'Labour will take the railways into public ownership, prevent above inflation fare rises and deliver the reliable services that passengers and our economy needs.'

Why didn't Labour do this when they had the chance under Blair and Brown?

Ah, 'public ownership', that silver bullet that cures everything......