Posted 25th January 2019 | 1 Comment
Lack of delay investigation is 'scandalous', says NR chief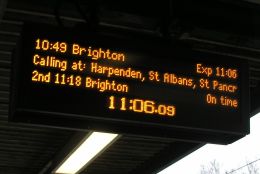 A SURVEY of rail passengers suggests that their trust in the industry is falling after a year of disruption caused mainly by poorly-planned timetables and industrial action.
The survey has been released as Network Rail chief executive Andrew Haines was telling a railway audience in London this morning that the details of train operations have been 'possibly neglected' at NR over the past decade.
He continued: 'On key parts of the network over half of all delays go un-investigated. In an industry that has highly geared financial incentives around performance this is a scandalous statistic and a massive missed opportunity.'
The figures published today by the consumer organisation Which? are the result of questioning more than 10,000 passengers. The samples for individual operators were much smaller, ranging from fewer than 100 to more than 200 for the larger franchises.
Which? said: 'Northern received the lowest customer score, achieving just 32 per cent. It scored only one star out of five in eight out of the nine categories we asked passengers to rate, including punctuality, reliability, customer service and value for money.'
Other operators close to the bottom of the table were Thameslink and Southern. These three operators all experienced major problems after new timetables were introduced in May. In spite of several changes later in the year which were intended to improve matters, the industry as a whole then decided to scrap most of the changes which had been planned for December 2018 to allow more time for corrections. Northern has also experienced more than 40 strikes by RMT members in the continuing dispute over on-train staffing, which have added to the disruption.
The best-rated company according to a sample of 72 respondents was Island Line, which achieved a 'customer score' of 68 per cent and almost full marks in the individual categories, such as value for money.
Which? said: 'Around half of commuters told us they frequently found travelling by train stressful. Many felt train delays had had a knock-on impact on other parts of their lives, including: 17 per cent missed out on time with family and friends, 9 per cent had been disciplined at work and 6 per cent had incurred additional childcare costs. Some people even reported moving house to escape a nightmare commute.'
Which? said there is a growing level of distrust of the rail industry. It now stands at 32 per cent, which is five percentage points higher than a year ago.
Which? managing director of public markets Alex Hayman said: 'It is shocking that a modern transport system is allowed to have such a negative impact on the people who rely on it every day. Its failures are affecting people's health and employment, and some are even forced to move home as a result of the disruption.
'If the government rail review is to have any hope of restoring faith in the system it must listen to passengers, who have too often been an afterthought. However, train companies should not wait for the results of the review to take action. The industry must start putting the interests of passengers first.'
Network Rail's Andrew Haines has attributed some of the problems to congestion on a much-busier network, some of which operates close to capacity.
He said: 'There are more services on the network than ever. In the busiest places, the network runs at or near to capacity at peak times. With little to no recovery time when incidents occur. My time away from the railway was spent in aviation and if you want to see what happens when you schedule too close to maximum theoretical capacity, go and stand at Heathrow on a day when there is modest disruption and see what that does to passenger service.'
Mr Haines also believes that the fragmentation of the railway at privatisation is partly to blame: 'When privatisation separated train operations from infrastructure management it signalled an end to the broad-based operations careers that people had in the past. Careers that developed whole-system overview,' and also that franchising plays a part: 'The way franchising was done made the system harder to operate and, in that context, the most experienced operators were no longer incentivised to use their expertise to best serve the system as a whole. Instead they were working for one organisation in that organisation's narrow interest.'
Responding to the Which? survey, Rail Delivery Group regional director Robert Nisbet said: 'We want people to have punctual, stress-free journeys and rail companies are working together to improve, with December's punctuality the best in five years. As part of our long-term plan we're rebuilding key parts of the network to improve punctuality and putting thousands of new and refurbished carriages on track to make journeys more comfortable.
'We want to go even further, which is why we support more fundamental reform of the railway that sees the public and private sectors working together to unlock benefits for the economy and our customers.'
Reader Comments:
Views expressed in submitted comments are that of the author, and not necessarily shared by Railnews.
After safety punctuality is a key measure of the railway's performance. While 2018 is a year that many will wish to forget measured performance has been in decline for several years. Considering that rail operations are at the core of NR's mission Mr Haines candour in admitting that details of railway operation have been neglected for at least a decade should be welcomed. Hopefully with an operator rather than engineer as Chief Executive NR can focus on the prime objective of running trains with engineering & property functions complimenting that aim.

The devil is in the detail to run a punctual railway. Unfortunately too often the current structure is too cumbersome to be proactive in avoiding delay. Post privatisation the control structure was fragmented introducing numerous interfaces. With the creation of the ROC's NR can grasp the opportunity of at last integrating signalling and control functions as well as embracing the TOC resource and commercial controls. It need not be fully 'Digital Railway' but there is much to be said where the analogue railway controllers coexist.

That the railway spends so much on performance management but fails to analyse so much data certainly needs to be addressed. Unfortunately the financial incentives have corrupted it's basic function of providing key management data that can be used for continuous improvement. Too often poor performance has been a nice little earner!