Posted 7th December 2018 | 4 Comments
RMT calls new South Western strike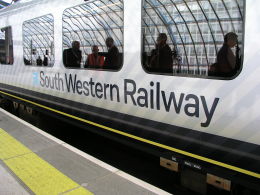 THE RMT has said it will stage a further 24-hour strike on South Western Railway on 22 December, after talks over on-train staffing remained deadlocked.
The news came as the union prepares another walkout on Northern tomorrow (8 December) after talks with Arriva also failed to make progress.
RMT general secretary Mick Cash said: 'South Western Railway continues to refuse to make any progress at all in resolving this dispute, which is about safety, security and access on South Western Railway. The company are hell bent on opening up a loophole that would allow them to run services driver only at their discretion.
'Recent figures have shown a shocking surge in violence on our railways across the festive season and it is frankly appalling that South Western Railway are looking for a green light to throw the guard off their trains as and when they see fit in the name of profit.'
South Western Railway has yet to comment.
The latest walkout on Northern tomorrow is part of a series of Saturday strikes which are set to continue until the end of the month.
A fresh bid to end the Northern dispute failed last week, when the RMT offered to cancel the outstanding strikes so long as Northern agreed to conditions set out by the union. The hopes of peace had also risen when both the Department for Transport and Transport for the North said they supported the presence of a second staff member on Northern trains.
Recent failures to resolve both disputes have often been caused by disagreements over when, if at all, it would be acceptable to run a train with only a driver.

Reader Comments:
Views expressed in submitted comments are that of the author, and not necessarily shared by Railnews.
Funny how the strikes the RMT call are on days when staff are likely to have other things to do than look after the passengers who pay their wages.

Bit of Xmas shopping. Maybe a football match. A day in the pub with mates.

I really hope the managements of SWR and Northern stand firm to defeat the Luddite Corbynite RMT. The rail industry needs you to win this decisively.

in the twentyfirst century no organisation should ever give way to the "demands" of a trade union.

A guard should not be expected to manage incidences of violence on trains. If services are experiencing such levels of social disorder then BTP officers should be present on trains and drunk passengers denied permission to board.