Posted 15th November 2018 | 3 Comments
Trains for HS2 could be built in Scotland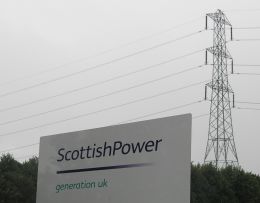 THE first fleet of more than 50 trains for HS2 could be built on the site of a disused power station in Fife.
Spanish rolling stock manufacturer Talgo says if it wins a £2.75 billion contract to supply the Phase 1 high speed trains it will employ 1,000 people on the site at Longannet, between Alloa and Dunfermline, which was the last coal-fired power station in Scotland when it closed in 2016.
Talgo is only one of five bidders for the first HS2 rolling stock contract.
Some foreign rolling stock manufacturers have already built or promised to build new factories in England and Wales to construct other fleets. These include the recent go-ahead for a Siemens site in Goole, after the plan survived a legal challenge to Transport for London's award of a £1.5 billion tube train contract.
The decision about the first HS2 trains will not be made until 2020, but the possibility has been welcomed by Scottish politicians and business leaders.
Mark Russell, Scottish Green Party MSP for Mid Scotland and Fife, said the fact that the site remains rail-connected was very important.
'The end of the coal age can be the beginning of a vibrant, low carbon industry in central Scotland and Talgo's commitment to 1,000 new jobs will be transformative,' he said. 'The rail infrastructure in place was key to the company choosing this site, and I'm excited to see how this can pave the way for more innovative and ambitious freight and passenger rail in Scotland.'
His Parliamentary colleague, SNP member for Dunfermline and West Fife Shirley-Anne Somerville, agreed it was 'excellent news'. She continued: 'This new facility will bring huge opportunities for local economic development, and has the potential to bring hundreds of new jobs to West Fife. Talgo will be well placed to tap into a skilled local workforce, and benefit from excellent links to the rest of the country.'
ScottishPower said: 'It is great news that Talgo has selected Longannet. The decision recognises the geographic, infrastructure and transport benefits the site offers, and could potentially lead to significant employment and economic benefits for the local area.'
Reader Comments:
Views expressed in submitted comments are that of the author, and not necessarily shared by Railnews.
Good news for Scotland. And it could create new jobs and to build new trains for HS2 and other rail operators that could order new trains. Plus Talgo could even build new tube stocks for the London Underground and new light rail stocks for the Docklands Light Railway.
[Potential good news. Talgo is one of five bidders for the HS2 contract, after all. Don't put any money on the company building tube trains, either. TfL has just awarded the first in a series of contracts to Siemens, and hinted strongly that Siemens will also do the rest in due course.--Ed.]

Will this new site include actual engineering (e.g. fabrication of bodyshells, bogie design/manufacturing, traction equipment etc) or is just going to be another Hitachi-style "screwdriver" assembly plant, putting together components manufactured by Talgo in Spain and subcontractors in UK and elsewhere?