Posted 6th November 2018 | 6 Comments
'No winners' in RMT disputes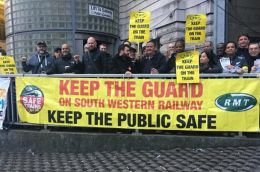 THE Rail Delivery Group has warned that there are 'no winners' in the disputes between the RMT and train operators over on-train staffing.
More strikes have now been called which are set to disrupt Northern services on every Saturday for the rest of the year, including those in the Christmas shopping period.
On South Western Railway, strikes have been called for 17 and 24 November, which are also Saturdays. Another walkout planned for 10 November has been cancelled by the RMT.
The union gave no reason for suspending this strike, but it would have affected train services on the day before Remembrance Sunday.
The RMT said: 'All other action scheduled in the dispute remains on and the union remains fully committed to using all industrial, political and campaigning tools at its disposal to secure the retention of the guard on SWR services.'
The operators, the RDG and other industry bodies continue to maintain that a traditional guard is not necessary to maintain safety on all trains, pointing to fully driver-only operated systems such as London Underground and Thameslink.
A spokesman for the Rail Delivery Group said: 'There are no winners from RMT disputes that disrupt the lives of our hardworking customers who may be trying to get to work, get their children to school or to run their local business. Train companies are working together to reach a resolution so we can focus on delivering our long-term plan to change and improve the railway for the benefit of our customers, local communities and Britain's economy.'
Reader Comments:
Views expressed in submitted comments are that of the author, and not necessarily shared by Railnews.
Yes, Tony , I agree with your enthusiasm for a co-operative model for some passenger operations - the ones that are captive market monopolies ( typically commuter) - a more succesfull type of public ownership than old-fashioned nationalistion. This approach should largely eliminate labour disputes.

Some operations, mainly Intercity and Crosscountry, are too delocalised for the co - op approach, though, and at the same time more suited to commercial, competitive operation. In this model, competition provides the accountability.



This is why strikes is causing misery not just on rail operators and staff. But also affecting passengers that commute by rail. And are having to suffer with strikes which most of rail services being replaced by buses or having not to commute by train and to work at home instead. It seems that rail strikes will always cause such misery to passengers and I think its likely to get much worse every year. If strikes are set to continue throughout 2019 and beyond.

Sad that the Railways are still operating in the way they did in the 1920s with Unions battling Management and the method used is to hurt the Travelling and Fare-Paying Public. Most reasonable Organisations reward their Staff extra for 'Good Performance' ,and for the Company doing well and showing increased profits. In the 'John Lewis' model the staff share all the Profits. The Co-op Model is different with Shoppers sharing the Profits. Is there some way that the Railways could operate like this. Passengers get a reward for the more times they travel, and staff share the increased Profits ? It really isn't mega-science.

Why, I wonder, could this staffing issue get solved in a matter of weeks on Scotrail, with a very sensible compromise, whilst it has been festering on for some years now in various parts of England ?

It rather seems there is a two - sided political battle going on, with passengers the big losers. The government seem to be wanting to disempower the rail unions, whilst the unions may be trying to cause so much passenger discontent , that the public will welcome renationalisation

I really hope South Western Railway and Northern Rail hold firm and achieve their aim of staffing their new fleets in ways that drag the railway into the 21st century.

That is...

- Doors operated by drivers.
- Visible on-train staff selling tickets - not fiddling with bell signals to drivers.
- Trains able to run with only a driver if ticket inspector isn't available.

Dig in and get this vital breakthrough. We are rooting for you!!