Posted 22nd November 2018 | 3 Comments
Thameslink director to run East West Rail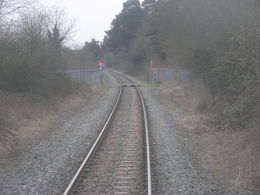 THE programme director for Thameslink has been named as the first chief executive of East West Rail, while the dates for a public inquiry have also been announced.
Simon Blanchflower will be taking charge as the organisation moves into its next phases.
There will be a 'pre-inquiry meeting' on 29 November in Milton Keynes, to be followed by the Inquiry itself from 6 February, as part of the process of obtaining Transport and Works Act authorisations to allow the restoration of a through rail route between Oxford and Cambridge.
The East West Railway Company is an arms-length subsidiary of the Department for Transport, and was set up in 2017. It will take full charge of the project next year.
Transport secretary Chris Grayling said: 'East West Rail will transform journeys in one of Europe's most vibrant economic regions, providing passengers and businesses with a transport system that boosts economic opportunity, bringing new housing and jobs.
'Simon brings a wealth of experience to the role and I am confident his expertise and insight will play a huge role in bringing this vital project to fruition.'
Before becoming programme director for the Thameslink project, Mr Blanchflower was involved with the development of Crossrail in its earlier stages, and he has also worked at Heathrow Express.
He said: 'I am very excited to take up my new role at East West Rail. It's a fantastic project, with the opportunity to prove there is a better way to deliver the railway, as well as to support economic growth in such an important corridor for the country. I can't wait to get started.'
EWR chairman Rob Brighouse said: 'East West Rail is a "start up" with ambitions to help shape the industry for the future. Simon is the right person to lead our team as we grow.
'He has a proven track record in both developing schemes in their early stages and delivering complex major projects to completion.
'When you combine this with his reputation for inspirational leadership and innovation, I'm delighted he is joining us as our CEO.'
Reader Comments:
Views expressed in submitted comments are that of the author, and not necessarily shared by Railnews.
My guess would be that by 2040, non-electrified lines will be populated by trains using hydrogen fuel-cell and battery technology for traction. Diesel is probably now steadily "on the way out", especially as and when diesel engines come up for renewal in passenger trains and possibly in freight locomotives too.

This is the 21 century and we are opening a "new" railway with Diesel traction!What madness is this?Doubly mad especially when all Diesel trains are to be eliminated by 2040!