Posted 15th December 2017 | 10 Comments
East West Rail to be a 'diesel commuter railway'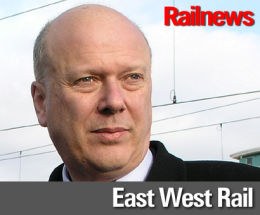 THE company which will develop and operate the East West Rail Link between Oxford, Bedford and eventually Cambridge has been given a formal launch at Bletchley station on the West Coast Main Line, when it was announced that the new company will start work in April.
Transport secretary Chris Grayling (pictured) described the project as 'the perfect example of how we can revitalise the railways, grow the network and unlock jobs and housing growth', while the interim chairman of the new company, Rob Brighouse, said: "This railway has huge potential to spread prosperity all the way along the line, making life better for those who live and work here. That's why it's so important to deliver it quickly and cost effectively; and that's what the East West Railway Company has been set up to do."
The project will be funded at least in part by the private sector, with particular focus on investment from developers who are set to build thousands of new homes along the 'Silicon Arc' between Oxford and Cambridge.
However, it has also been revealed that safeguarding for future electrification will only be undertaken where no substantial costs are involved.
The route has changed from being an electrified corridor for freight – part of the 'electric spine' envisaged in 2012 – to become a diesel operated commuter railway, at least for the foreseeable future.
Rob Brighouse told Railnews: "I've driven out a big chunk of the cost already and my task now is to make sure is that we continue to drive the programme. I made savings by being absolutely clear what this railway is for.
"I am not planning on making specific provision for electrification. If there are locations where it can be accommodated at a sensible price and it's much more effective today than tomorrow then we will certainly look at that, yes.
"I will review the work that has already been done to adjust structures on the Bicester-Bletchley section. If it creates many abortive costs by cancelling that work then obviously that will inform the decision, but if the work can be done later then that's what I'll be looking at. At the moment we are looking at a non-electrified route."
The project will mark a step change in railway policy, because East West Rail will be integrated as a single operation and not become part of Network Rail's estate.
Transport secretary Chris Grayling told Railnews that the project is a 'test bed', saying: "This is not about privatising the railway, it's about getting innovation into the development of new rail routes.
"We have got around the country a number of places where I think there is an increasing case to bring back some of the lines which disappeared in the Beeching era, where there's an opportunity to generate new links for new housing, where there's an opportunity to improve commuter routes. We want the best, state of the art innovative approach to doing that."
Railnews managing director Cyril Bleasdale was one of the guests at the event, because he turned the first sod on the Bletchley flyover in 1962. The viaduct over the main line at Bletchley will become a key link in the chain of East West Rail.

Reader Comments:
Views expressed in submitted comments are that of the author, and not necessarily shared by Railnews.
Looks like a very short-sighted decision to build a new railway without electrification.

It will be massively more expensive and disruptive to retro fit this in afterwards.

We should be aiming to phase out diesel power for trains, not creating new diesel only lines.

To quote another contributor "it's also worth considering how the eastwest railway will be used".

Yes, I'm hoping it will be used with maximum cost-effectiveness; in practice this probably means concentrating on the more strategic, longer distance flows, passenger and freight, rather than trying to cater for all possible local demand . This latter will get improvement with roads' congestion relief through strategic movements transferring to rail.

I still think that Battery Power will be all the rage in 5 years time. Will anyone want to buy all the scrap Copper Wires and Gantries ?

Many of the problems encountered by the new HOPS electrification system were caused by unknown cables and pipes encountered along the GWR when undertaking electrification works.

Given that to all intents and purposes the East West Rail will be more of a new railway given how being long closed it will be possible to clear the route and basically begin again thus making it easier for the HOPS system to simply get on with electrification .

It's also worth considering how the East West railway will be used when built in that will it just have a service along the route or will it be connected to the North South lines which cross the route the bulk of which are already electrified!

So a Transport Secretary goes on and on about electric road vehicles most of which have still not been developed stops rail electrification which has over a century of operatlion ..

[East West Rail is not a 'new railway', except between Claydon Junction and Bletchley (and later on between Bedford and Cambridge). The rest cannot be 'cleared' -- it is in use.-- Editor.]

The route between Bicester & Bletchley has been a mothballed route since the last regular freights in the early 1990's. Imaginative ideas have been proposed to reintegrate it back into the national network for meeting both passenger & freight demand. The question that remains unanswered is how an increasingly strategic piece of infrastructure has proved so difficult to be reintegrated into the national network. Am I incorrect in recalling that rather than still talking about how it should have been well on the way to completion by now? Given Chiltern's record with the Evergreen projects this should have been a natural follow on from completing the Oxford link with the synergy of enhanced cross country & freight routing opportunities.





Why, was steam deemed too expensive?

Truly absurd economy. If Rob Brighouse is looking for doing things that are cheaper today than if done later, he should be pushing for electrification now, not when trains are running on the line. Short term ism rules the rails again.


I'm sure I won't be the first or last to say how short sighted it is not to prepare at least for electrification. The whole industry knows how expensive bi mode is and that diesel causes air pollution, means slower stop/start times etc etc.
If nothing else haven't people learned from the Border Railway that thinking ahead is key to these projects.

I came to liive in Bletchley in 1968. Even before privatisation, noises were being made about restoring passenger service west of Bletchley ( Swindon - Peterborough ), since when, we've had a succession of "starts", headed by a procession of FIP's ( Fairly Important People) who we were told would put new life into the scheme. Here we are in 2017 still with nothing "on the ground".

This would seem to be a reflection of delays and escalating costs that generally seem to plague infrastructure projects in this country. If someone can solve this syndrome, they would be doing the country a great service.