Posted 7th November 2018 | 4 Comments
Central Line closed by strike, but Piccadilly walkout called off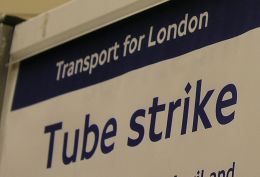 A 24-HOUR strike has closed the Central Line of London Underground today (Wednesday), although another 24-hour walkout which had been set to start at 15.00 yesterday on the Piccadilly Line was called off at the last moment, after talks over a separate dispute made progress.
There are also no trains on the Waterloo & City Line, which is worked as part of the Central.
The dispute involves both the RMT and ASLEF, and concerns what the RMT has described as 'a comprehensive breakdown in industrial relations, a failure to employ enough drivers, a wholesale abuse of agreed procedures and the victimisation of a trade union member'.
TfL has denied these claims, saying: 'The disputes with the RMT and ASLEF have been attributed to a general breakdown in industrial relations. However, agreements have been made on all but a few points between TfL and the unions following extensive discussions at ACAS. The key points in these disputes are two cases of individual drivers being dismissed. Both of these cases are serious breaches of safety which endangered the lives of customers.'
RMT general secretary Mick Cash said: 'Industrial relations along the Central Line have been at breaking point for some time now and the failure of the management to address the issues, and a conscious decision to up the ante by attempting to single out and pick off individual members of staff, has tipped the situation over the edge and has led to the strike action today.
'The union is angry and frustrated that the management side have squandered a golden opportunity over the past week to resolve the issues through the talks process.
'Today's action is the clearest possible demonstration to tube bosses of the level of anger on the job and it's down to them to take the situation seriously and engage in genuine talks around reaching a solution.'
London Underground managing director Nigel Holness said: 'The action called by RMT and ASLEF this week is totally unjustifiable. Both are demanding the reinstatement of drivers sacked over serious safety breaches – one who deliberately opened the doors of a train in a tunnel, and one who failed a drugs test. We always strive to run a reliable service for our customers but our commitment to the safety of both customers and staff is absolute and something we will never compromise on. I urge the unions to call off this entirely unnecessary strike action which will only cause disruption to our customers.'
ASLEF's London Underground organiser Finn Brennan does not agree, saying: 'In the four weeks since our solid strike on 5 October management have made no new proposals and no further talks have been arranged. ASLEF have kept in contact with ACAS and made it clear that we are ready to discuss the issues in dispute at any time, but senior management seem to hope that our members will simply give up if they refuse to budge. Today they will find out just how wrong they are.'
Transport for London is running 150 extra buses on routes serving Central Line stations.
Reader Comments:
Views expressed in submitted comments are that of the author, and not necessarily shared by Railnews.
Yet another nail in the coffin of the farcical claim that strikes over DCO are for the safety of the passenger. It's obvious the RMT cares nothing about the safety of the travelling public if they think it's acceptable to keep drivers on the job after failing drug tests.

[Comment deleted by moderator. Guidance Note 8 applies.]


It's completely inexcusable when unions call strikes to try and force reinstatement of staff who have been fired for serious safety issues.
That said, if Mick Cash and his gang who are trying to force reinstatement in cases like this (which yet again proves beyond a doubt that the RMT cares not a toss for the safety of the travelling public - the farcical claim they make trying to fight DCO) why can't these drivers be criminally charged (for example the one who failed a drug test), then the subsequent jail time would lead to natural loss of their job anyway.
[Edited for abuse.--Ed.]

Why is the Waterloo & City Line part of the Central Line but in fact Waterloo & City Line did operate on its own line which was part of Network Southeast. Before it was taken over by London Underground and not part of Central Line. That it wouldn't of been affected if strikes were to happen on the Central Line. Even though their 1992 rolling stocks that were built by Metro-Cammel for the Central Line and Waterloo & City Line.
[When the W&C was part of NSE it was unique within British Rail (before NSE it had been a component of the former Southern Region). When London Transport took over in 1994 the W&C was thought to be too small to justify a separate existence for internal purposes within the Underground, so a larger line became its 'parent' for administrative reasons. The identity of the parent line has changed more than once but it is now the Central once again, as you rightly say.--Ed.]