Posted 21st September 2018 | 5 Comments
More strikes called on Northern, SWR after talks failed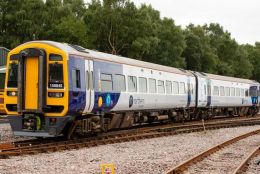 The RMT has called more strikes on Northern and South Western Railway during October, after talks failed to end the disputes over on-train staffing.
South Western has clashed with the RMT over the justification for further industrial action.
There will now be further strikes on Northern on three Saturdays, while a new 48-hour strike has been called on SWR.
The union's general secretary Mick Cash has accused Northern of 'intransigence', while he maintains that South Western has been 'playing with words'.
Two 24-hour strikes already arranged on Northern for 22 and 29 September are now set to go ahead, and further Saturday walkouts have been called for 6, 13 and 20 October.
On South Western Railway the RMT has announced a 48-hour strike on 5 and 6 October, affecting a Friday and Saturday.
Talks between the RMT and Northern's owner Arriva Rail North at Acas broke down on Wednesday (19 September).
After that meeting, Mick Cash said: 'This dispute, and the further industrial action we have announced today, would have been entirely preventable if the company had listened to the union's deep-seated safety concerns, had taken them seriously, stuck to their earlier commitments and had put passenger safety before profit. In spite of the collapse of this week's talks, RMT will not be deterred in its efforts and will continue to campaign both industrially and politically.'
The new strikes on South Western are the result of a further ballot, required by law, in which the RMT said 88 per cent had supported further action.
Mick Cash said: 'Before the result of the re-ballot I sent a letter to the company on 30 August asking them to make the necessary arrangements for a meeting to take place. However, I never received a response from the company and they have made no attempt at trying to resolve this dispute since.'
South Western Railway responded: 'We are extremely disappointed that yet again the RMT has decided to disrupt the lives of customers and employees rather than participate in constructive talks to help resolve this matter for their members.
'Contrary to the RMT's claims of "rock-solid support" for a mandate to strike, the fact is that when factoring in non-RMT members and those RMT members who did not vote, only around half of our total number of guards voted for strike action. The RMT is misleading the public by claiming they have an 88 per cent mandate. We have offered a framework for talks which would guarantee the rostering of a second person with safety critical competencies on all our trains, and our plans mean more guards, not fewer.
'We urge the RMT to call off these unnecessary strikes which are hindering, not helping, progress.'
Northern, which now faces five more 24-hour strikes this month and next, has yet to make a further statement, but after the talks had failed on Wednesday, Acas said: 'Following a second day of Acas talks, Arriva Northern Rail and RMT were unable to make any progress in resolving their dispute. There are no further meetings planned at the present time.'
Reader Comments:
Views expressed in submitted comments are that of the author, and not necessarily shared by Railnews.
Let's face it. The RMT cannot pick on GTR and Merseyrail anymore, so they have to find another company to pick on.

The fact is, they use safety this and safety that as an excuse, especially with the DOO debacle that is going on. What the fat-cat of the RMT, Mr. Mick Cash, fails to realise is that Door Only Operation has been in use for a substantially long time, and that I rarely know of any incidents that have happened which anybody can blame DOO for.

The problem we have here is that because the conductors are being used for other roles (which, incidentally enough, still keep them on the trains in the first place, rendering the argument totally invalid from the start), Mick is scared that he is going to lose his grip hold on the low-danglers of the railways and he won't be able to twist them as hard as he used to, to get his own way.

Does he care that he is inconveniencing thousands of passengers a day for these strikes? Course not! All he cares about is his power in this country's political future. I genuinely feel sorry for the staff of the TOC's, because Mick is using them as pawns for his own political agenda, and they don't see it.

Instead of forcing strikes, Mick, how about doing the entire of the UK a favour, and retire... graciously... immediately?

GTR at least stood up to the RMT and introduced new contracts for their guards, that the RMT (admittedly reluctantly) advised their members to sign. I'm not by any means saying GTR is perfect, but that put an end to the RMT's endless strikes on GTR.

Now the RMT has Northern & SWR targetted and are going at them like a rabid dog on a bone. I partially blame the cowards at ScotRail & MerseyRail for the ongoing strikes at Northern & SWR thanks to their caving to blackmail from the Luddites at RMT. If they had their way we'd still have someone walking with a flag in front of the trains, for "safety" reasons of course.

Now we have Labour telling us how they'll renationalise the railways. Great. British Rail, under total government control, seemed to be one strike after another - and nationwide too. Labour must think the long suffering public are either too old, too young, or too stupid to remember those days.


Anyone who loves the railway should be behind the managements of South Western and Northen in their battle to modernise working practices and improve passenger experience and to collect fares.

The RMT would happily see (while moaning) lines close due to lack of revenue if their lazy scared members choose to sit in the back cab, giving a buzz to the driver, and nothing to cover their wages.

These strikes have Zippo to do with safety. They are about modernising the railway, in the face of lazy luddite Trotskyite opposition.

I urge everyone who wants investment in the railway to pour scorn on the Corbynite RMT and to stand behind the managements of SWR and Northern in their battle to modernise and improve working practices.

Meanwhile the franchising system is not broken. Having teams of rival operators looking at a subset of services every 10 years and highlighting flaws has delivered endless benefits.

Labour and the RMT want the sort of complacency and ineptness that public sector Network Rail regularly extended to the whole industry.

Time to stand up and fight the RMT trots. Go to work on strike days for a start





Arriva Northern trains and SWR are becoming the worst train operators to have strikes happening perhaps each month. Even though RMT has cancelled strikes but it seems that its endless. GTR were the ones who caused misery to passengers when strikes happened on Southern trains last year and the year before.