Posted 22nd January 2018 | 3 Comments
MPs urge government to reduce rail fare increases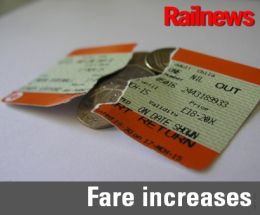 THE Department for Transport is being urged by a parliamentary committee to change its base for increasing rail fares from the Retail Prices Index to the lower Consumer Prices Index.
It had already been reported that the government was concerned about the effect of this month's 3.4 per cent average increase on public opinion, accompanied by speculation that Conservative votes could be at risk in the next election.
Although the DfT would only say that the basis for the increases remained 'under review', the Treasury Select Committee has now increased the pressure on the DfT by supporting a move to using the CPI as the base, which could have meant an average increase in rail fares this month of around 2.4 per cent.
CPI figures are typically lower than the RPI. The Retail index is already discredited and is no longer recognised as a reliable measure of inflation by the Office of National Statistics, which describes it as having many 'common flaws, such as weighting, population coverage and treatment of owner occupiers' housing costs'.
The Committee said: 'Having acknowledged that RPI is unfair, and removing the link between RPI and the uprating of pensions, benefits, and tax allowances, the Government should stop using RPI for any indexation purpose where legally possible. This would see the use of RPI discontinued as an index, for example, for calculating the interest rate on student loans, the uprating of rail fares, and Air Passenger Duty.'
Transport campaigners have welcomed the development.
Campaign for Better Transport chief executive Stephen Joseph said: "We strongly support the Treasury Select Committee recommendation to switch to CPI for rail fare increases. We have long called for the current RPI formula to be dropped as it is an outdated method for measuring inflation that has left passengers struggling with the cost of their commute. We think the Government should commit to a fares freeze for 2019 and switch to CPI for all future increases to ensure rail travel remains affordable for all."
Reader Comments:
Views expressed in submitted comments are that of the author, and not necessarily shared by Railnews.
Interesting in response to a report from the Association for Consultancy & Engineering suggesting road pricing tbe government insists freezing fuel duty is to support hard working people by saving an average of £160 per year.

No such compassion has been shown to equally hard wlrking people who choose to use public transport.



Whichever index is used, using July as the month gives rise to a curious quirk. The July price index is often unusually high because air fares go up dramatically in summer. So because air fares go up in summer, rail fares go up more in January.