Posted 2nd January 2018 | 3 Comments
Government may rethink basis for rail fare rises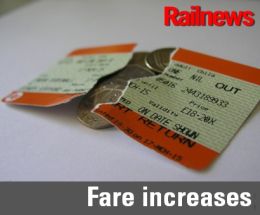 DEMONSTRATORS have been out in force at around 40 stations in England and Wales to protest at the latest increases in National Rail fares.
Regulated fares rose by 3.6 per cent in England and Wales, and by the same amount during peak hours in Scotland. Off-peak regulated fares in Scotland have risen by 2.6 per cent. The average increase, taking non-regulated fares such as Advanced, Anytime and First Class into account, is 3.4 per cent in England and Wales and 3.2 per cent in Scotland.
But the government may have given the first hint that the system of basing the annual increases on the Retail Prices Index could be under review, because it is apparently feared that the present policy could cost the Conservative Party vital votes at the next election.
The RPI is no longer recognised as a key indicator by the Office for National Statistics, which describes RPI as a 'legacy measure' with many 'common flaws'.
Transport campaigners have called for the lower Consumer Prices Index to be used as a basis instead, and the Daily Telegraph has reported that transport minister Chris Grayling is considering the change. The Department for Transport said: "The government carefully monitors how rail fares and average earnings change and keeps the way fare levels are calculated under review. We are investing in the biggest rail modernisation programme for over a century."
Investment in the next five-year Network Rail Control Period from April 2019 is expected to be at a record high, at almost £48 billion. Of this, some £34 billion will come directly from taxpayers and the rest from Network Rail's revenues from track access and property.
The rises have also triggered fresh calls for the railway passenger business to be renationalised.
RMT general secretary Mick Cash said: "With 75 per cent of Britain's railways in overseas hands, it is the British people, paying the highest fares in Europe, who are subsidising state-run rail operations in Berlin, Paris and Amsterdam while the Tory government refuse to even consider the public ownership option in their own back yard. "The answer to this racket is a full return to public ownership of Britain's railways and an end to this gross profiteering."
The Rail Delivery Group has conceded that the 2018 rises are 'significant', but RDG chief executive Paul Plummer told the BBC: "None of us obviously want to pay higher fares. Fares are actually underpinning massively required investment."
The new fares have come into force on the day that London Bridge station reopened fully after a five-year upgrade project, costing £1 billion. Further improvements to Thameslink are due in May, while electrification also reached Didcot Parkway today, allowing electric GWR trains from London Paddington to serve Oxfordshire for the first time.
Altogether, Network Rail completed 260 projects over the Christmas period at a total cost of £160 million. Chief executive Mark Carne said: "Mega-projects like London Bridge, as well as hundreds of smaller projects across the country, will bring real benefits to millions of passengers. We have been working tirelessly across the Christmas break to deliver these improvements and I am pleased that passengers will begin to see the benefits they will bring."
Reader Comments:
Views expressed in submitted comments are that of the author, and not necessarily shared by Railnews.
What a come down from the country that gave the World railways! now we import nearly all our rolling stock from abroad while the rest of Europe stares agog at our shambolic private railway a railway they are only to happy to invest in taking out profits and putting in precious little,concerning themselves with ever higher dividends to shareholders and bigger and bigger pay checks for themselves,priceless

Rail fares seem to be more about politics than need for revenue given how Londoners are benefiting again from Mayor Khans fares freeze meaning no increase in TFL ONLY fares with travelcards and season tickets affected by national increase.

So the government can freeze fuel duty yet rail fares increase by RPI a purely political decision .

The only good New for 2018 is its looking likely that Chris Grayling won't be Transport Secretary much longer but the mess he's created will take a long time to put right especially Rail electrification!