Posted 21st August 2017 | 2 Comments
First, MTR take charge on South Western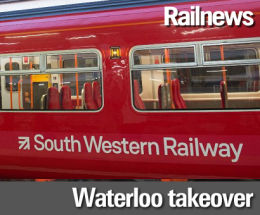 RUSH hour trains to London Waterloo are being operated by new franchise owners today for the first time in more than two decades. The South Western contract, which was won by FirstGroup and MTR, will now be operated with the brand South Western Railway for at least the next seven years. The new owners have displaced Stagecoach Group, which ran the first franchised train from Twickenham to Waterloo at 05.10 on 4 February 1996, and which had kept the South Western franchise ever since.
The new franchise is owned by First and MTR in the proportions of 70:30, and the seven-year contract includes more new trains, consisting of a fleet of 90 Bombardier Aventras to be built in Derby. However, a recently-delivered fleet of Class 707 Siemens Desiro City sets will run on SWR only until 2019, because they are said to be more expensive to lease.
Other improvements promised by SWR include faster services from next year and up to 400 extra trains on Sundays, as well as a fleet-wide refresh of existing rolling stock. For the first time all suburban sets will have toilets, and SWR trains will also be retrofitted with at-seat charging points and equipped with faster WiFi and better on-board information for passengers. SWR said it will be offering 52,000 more seats in the peaks by 2020.
Off the trains, more than £90 million will be invested in stations, partlcularly Southampton Central and Wimbledon, while many station car parks will provide more spaces. More promotional fares are promised, along with more flexible ticketing for part-time workers and a new tariff for 16-18 year olds 'to bridge the gap between child and full fare travel while still in education'.
The Isle of Wight line between Ryde and Shanklin, whose future has been questioned in recent times, seems set to stay. SWR said it would 'work with the Isle of Wight community on plans for a more sustainable future for the island's railway', but gave no further details.
The SWR franchise began officially at 02.00 on Sunday morning (20 August) but, unusually, no formal launch has been arranged for today (21 August). SWR said any launch will be postponed until after the August Bank Holiday, when the Waterloo blockade is over and all platforms are available again.
The new managing director of SWR is Andy Mellors, who has arrived from another FirstGroup franchise, Great Western Railway. He said: "We're looking forward to building on the respected foundations established by the former franchisee's employees. They've done a great job during the Waterloo and South West upgrade programme work, and I know it's been a challenging few weeks for customers travelling so I'd like to thank everyone for their patience and understanding during this time. The outcome of this improvement work will deliver the infrastructure needed to support the increased capacity plans we need for the future."
Meanwhile the RMT staged a demonstration at London Waterloo today, calling on SWR to keep guards on its trains.
Speaking earlier this year, a FirstGroup spokesman had said: "Our proposals do not rely on driver controlled operation, and it was not mandated in the invitation to tender. Any changes we might make would be subject to consultation in the normal way, as you would expect."
Reader Comments:
Views expressed in submitted comments are that of the author, and not necessarily shared by Railnews.
One thing is for sure the skilled vinyl application technicians wont be out of work for quite a while .