Posted 16th June 2016 | 1 Comment
First and MTR join forces to bid for South Western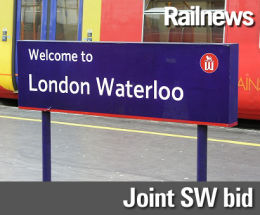 FIRSTGROUP has decided to complete its bid for the South Western franchise in partnership with MTR, which is taking a 30 per cent stake. Only two bidders have been shortlisted; the other is the present franchisee Stagecoach.
The Department for Transport has approved the addition of MTR to the competition for a new SW franchise, which will replace the present South West Trains contract next year.

The partners are promising an 'innovative and value for money proposal that will deliver better connectivity and significant improvements'.
The managing director of First Rail, Steve Montgomery, said: "We are pleased that we will be partnering with MTR in a joint venture to bid for the South Western rail franchise, for which we were shortlisted in February 2016. We have extensive expertise of running commuter, inter-urban, regional and long distance services – such as those that make up the South Western franchise – and a strong track record in delivering passenger growth. MTR run successful suburban and commuter railways; their knowledge from running London Overground and TfL Rail on behalf of Transport for London will add further depth and understanding to an important component of this franchise."
Jeremy Long, who is the CEO in Europe for Hong-Kong based MTR, added: "South Western is a complex mix of shorter and longer distance services. Our joint venture will combine MTR's experience of running successful London Overground and TfL Rail commuter services in the UK, and Stockholm Metro commuter and MTR Express inter-city services in Sweden, with FirstGroup's strong track record of running commuter, inter-urban, regional and long distance services and delivering passenger growth.
"MTR's international experience of running integrated railways also means we can bring particular insights and expertise around the areas of the franchise jointly operated with Network Rail – including the Waterloo Integrated Control Centre, the Waterloo station team, and the capacity and planning teams and joint performance teams."
The competition for South Western might not have been necessary until 2018-19, but South West Trains' owner Stagecoach failed to reach agreement with the DfT over the terms of a proposed direct award to cover 2017-2019. The new franchise is now set to begin in June next year.
The South West Trains franchise is the only one to make substantial profits for the Government in real terms, even when its 'share' of the Network Rail direct grant and any revenue support payable to the franchise has been taken into account. In 2014-2015, SWT paid the DfT a net total of £131.6 million in premiums. The only other franchise with a net premium was Southern, which paid the DfT £7.4 million.
Reader Comments:
Views expressed in submitted comments are that of the author, and not necessarily shared by Railnews.