Posted 24th March 2016 | 3 Comments
£800m Waterloo investment is 'not before time'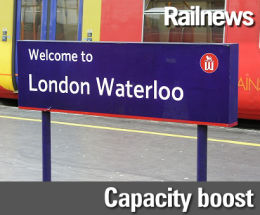 THE former international platforms at London Waterloo will all be coming back into use, as part of an £800 million scheme to upgrade the terminus and also the South Western Main Line through Surbiton and Vauxhall.
The number of people using Waterloo -- Britain's busiest station -- is about to top 100 million a year if present trends continue, and a combination of schemes formally announced by the transport secretary on 23 March is designed to cope with a 40 per cent increase in demand by 2043.
Apart from the former Eurostar platforms, 20-24, the concourse will also be enlarged at the 'international' end, while platforms 1 to 4 will be extended to take ten-car trains. Ten stations on the Reading line will have their platforms lengthened, and there will also be station improvements at Vauxhall and Surbiton.
The south western fleet will grow further when Siemens Class 707 trains start to enter service in mid-2017 alongside the present Desiros, boosting peak time capacity still further. Depots and power supplies will also be upgraded to cope.
In addition, the South Western line is an early candidate for Network Rail's 'digital railway' programme, which uses new technology to increase capacity on existing infrastructure.
The transport secretary Patrick McLoughlin said: "We are investing £40 billion in our nation's railway infrastructure – the biggest upgrade since Victorian times.
"From 2017, passengers will benefit from a bigger and better London Waterloo station and 150 new train carriages providing more space for passengers arriving at London Waterloo over the three-hour morning peak – this is in addition to the 108 extra carriages that have already been added since 2013. These improvements will make journeys better for hard working commuters, in the capital and across Britain."
Network Rail chairman Sir Peter Hendy said: "This is the biggest package of improvements for passengers travelling to and from Waterloo for decades. It will provide passengers with a better station, extra seats and new trains.
"And let's face it, this is not before time. Since 1996, the numbers of passengers on routes into Waterloo have more than doubled - rising from 108 million passenger journeys a year to over 230 million. And this increase is showing no sign of slowing down.
"As part of our Railway Upgrade Plan, Network Rail is investing £40 billion to provide a bigger, better, more reliable railway for passengers across Britain. The plans announced today will create a bigger, better Waterloo and improve passengers' journeys on our most congested part of Britain's railway. They are a long way from being the complete answer to the peak time congestion on this packed commuter route, but they will make a big difference."
Stagecoach Group is currently the operator of the passenger franchise South West Trains, although it has come head to head with FirstGroup as the other contender for the next South Western franchise. This is due to start next year after SWT had failed to agree the terms of a direct award with the Department for Transport, which would have extended the existing contract until 2019.
Stagecoach Rail managing director Tim Shoveller said: "We are proud to run one of the country's busiest railways -- providing half a million journeys every day - helping to support businesses, communities, families and friends travel across the south west of England.
"Since 1996 we have added more than 100 extra train services and 500 extra and vastly improved carriages for journeys to and from Waterloo, but we know we need to do even more to provide more capacity and better facilities for our passengers.
"That's why we're so pleased to be working with our partners to introduce this package of investments and improvements. This is the biggest programme of improvements for decades and will boost capacity by 30 per cebt during the busiest times of the day by 2019. It will also create the extra space and upgraded infrastructure needed to increase capacity for our longer distance mainline services in the near future too.
"We're looking forward to introducing these improvements and we will keep our passengers up to speed with everything happening on the network in the coming months and years."
The present Waterloo station was opened in 1922 after more than two decades of reconstruction which replaced the former tangle of platforms and structures which had grown in a piecemeal fashion since the 1840s. It remained the most modern London terminus until the rebuilt Euston was completed in 1969.
Reader Comments:
Views expressed in submitted comments are that of the author, and not necessarily shared by Railnews.
I wouldnt believe 'NotWork Fail' if they told me there would be no more signal problems! as for Waterloo opening, the old Eurostar platform after 9 years would be a start!

This article opens by saying the number of people using Waterloo is about to top 100 million.
However further down it tells us that since 1996 passenger numbers have increased from 108million to over 230million.
Which is it?
Can someone reconcile these statements please?
[Yes, it does appear odd, but that is how it came from Network Rail. The opening figure is correct so far as Waterloo itself is concerned. For example, the 'entries and exits' at Waterloo in 2013-14 totalled 98,442,742 (source ORR station usage). The larger figure appears to relate to passenger journeys on the lines into Waterloo, perhaps from Surbiton inwards, with Clapham Junction making a large contribution on its own (around 52 million entries/exits/interchanges in 2013-14).-- Ed.]