Posted 4th February 2010 | 1 Comment
Watchdog urges tighter measure of train punctuality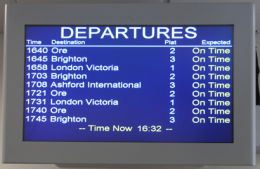 THE latest National Passenger Survey has revealed that passengers are still concerned about rail's value for money, and that only 36 per cent think TOCs deal with delays properly. Watchdog Passenger Focus is calling for a rethink on how punctuality is measured, with a tighter definition of what 'on time' means. The Office of Rail Regulation has welcomed many of the findings, but is also warning that there are still areas of 'real concern'.

83 per cent pf passengers questioned said they were satisfied with the service they receive as a whole. Passenger Focus, which produces the survey, welcomed improvements in satisfaction at London Midland (87 per cent), First TransPennine Express (89 per cent) and Virgin Trains (also 89 per cent).

Almost all passengers travelling on open access operators Wrexham & Shropshire (98 per cent satisfied) and Grand Central (95 per cent) said they received a good service from their train company. Heathrow Express (93 per cent), MerseyRail (91 per cent), Chiltern Railways (91 per cent), ScotRail, Heathrow Connect and c2c (all 90 per cent) also continue to be strong performers.

The chief executive of Passenger Focus, Anthony Smith, said: "The investment in faster and more frequent Virgin Trains services and London Midland's new trains have resulted in much better scores from passengers. The message from passengers is clear – investment does pay off."

But PF also pointed out that work is needed to improve the areas passengers have identified as their top priorities. Scores for value for money slipped a point (45 per cent satisfied) and only 36 per cent said they were satisfied with how well their train company handled delays.
Mr Smith added:"The recent snow and industrial action, as well as the NPS results, tell us the industry has a long way to go when it comes to managing disruption. First Capital Connect, for example, has a lot to do to restore passengers' faith – boosting the mean compensation package on offer for recent poor performance would be a good start.

"Trains arriving on time is a top priority for passengers – the industry should work on trains arriving at each station according to the timetable, not just at the final destination. And, we would like the industry to look at how it records punctuality. On time should mean just that, not within the five or 10 minutes leeway currently accepted."

Meanwhile Anna Walker, who chairs the ORR, gave a mixed response to the new figures: "It is encouraging to see that 83% of passengers consider their rail services to be satisfactory or good," she said.
She continued: "But we have to recognise that there are some areas of real concern. Through this survey, passengers have sent the rail industry a clear message that there is significant room for improvement - they are not happy with facilities and services at stations and on trains, the availability of staff, how well train companies deal with delays and the value for money their train ticket provides.
"It is up to all of us – train operating companies, Network Rail, the Government and Office of Rail Regulation – to meet these challenges and deliver the levels of service and value that passengers rightly demand."
Reader Comments:
Views expressed in submitted comments are that of the author, and not necessarily shared by Railnews.
The leeway of five minutes allowed when trains are defined as "on time" is quite reasonable. The allowance of ten minutes for long distance trains is one of two common causes of poor connections. For example a train from Euston to Stoke on Trent arriving "punctually" nine minutes late will cause passengers to miss connections to Uttoxeter and in consequence arrive an hour late. The other main cause of missed connections is the fact that TOCs are penalised when trains depart late even when the majority of passengers on a service arrive on other trains, as happens on many trains from Doncaster to Sheffield..