Posted 16th May 2011 | No Comments
Punctuality slips, but underlying trend is 'improving'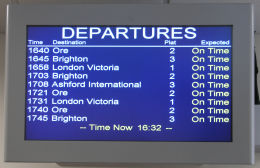 NETWORK RAIL has revealed that average railway punctuality reached almost 93 per cent in April.
The announcement follows recent criticism of the company by East Coast, which has suffered more than one major disruption recently. The operator had warned that Network Rail's performance must improve.
The average figure of 92.9 per cent is down from a year ago, when the average was 94 per cent, but also conceals some higher figures from individual operators.
Joint best were c2c and London Overground (both 96.3 per cent), and other high performers included Merseyrail (95.9 per cent), Chiltern (94.5 per cent) and South West Trains (94.3 per cent).
Most other operators achieved at least 91 per cent, but the average was brought down by CrossCountry (89 per cent), East Coast (86.5 per cent), and Virgin Trains (85.8 per cent).
East Coast had said Network Rail 'had to improve its performance measurably' after problems in April, which included the closure of the East Coast Main Line between York and Northallerton for several hours after computer problems affected the main York panel.
In today's announcement, Network Rail pointed out that 'East Coast saw punctuality improve for the fourth period in a row and beat last year's period one result. If three big external events were excluded from the statistics (fatalities and cable theft) East Coast would have reported train performance of almost 90%, as the underlying reliability of the infrastructure and the train fleet continue to improve'.
Network Rail's director of operations and customer services Robin Gisby added: "A good start to the year sees train performance continue to deliver consistently high levels of punctuality. Our focus remains as we, and the train operators, endeavour to deliver a high performing and reliable railway for almost four million daily users."
The new figures come hard on the heels of the publication of passenger totals during 2010-2011. The Association of Train Operating Companies said the total, more than 1.3 billion, was the highest seen in peacetime since the 1920s, and that rail usage had risen by more than 6 per cent during the year.
Punctuality in April 2011
National average 92.9%
c2c 96.3%
London Overground 96.3%
Merseyrail 95.9%
Chiltern 94.5%
South West Trains 94.3%
Arriva Trains Wales 94.1%
Scotrail 93.4%
East Midlands Trains 93.3%
Southeastern 93.0%
First Capital Connect 92.7%
First TransPennine Express 92.6%
National Express East Anglia 92.5%
Northern 92.5%
Southern 92.3%
First Great Western 91.7%
London Midland 91.1%
CrossCountry 89.0%
East Coast 86.5%
Virgin Trains 85.8%

(Source: Network Rail)