Posted 15th July 2017 | No Comments
All change at Metrolink as KeolisAmey takes over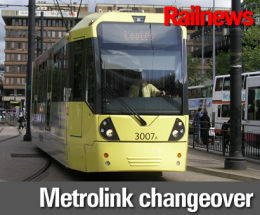 THE operator of Manchester Metrolink changed at 02.00 on Saturday morning, as KeolisAmey took over the concession to run the city's tram services from RATP Dev.
The concession, which is awarded by Transport for Greater Manchester, will run for up to ten years.
The changeover is the latest in a series of landmark moments on Metrolink this year. Work started on building the Trafford Park extension in January, the Second City Crossing avoiding Piccadilly Gardens opened in February and the system's 25th anniversary was celebrated in early April.
Councillor Andrew Fender, chair of the Transport for Greater Manchester Committee, said: "KeolisAmey Metrolink is a partnership between two international transport and infrastructure management specialists, with the experience and skills to operate Metrolink.
"These are exciting times for Metrolink and the city-region and I warmly welcome KAM as the Metrolink operator. Together we will further realise the full potential and benefits of the unprecedented growth and investment we are overseeing in the network."
Aline Frantzen is the new managing director at KeolisAmey Metrolink. She has travelled half way round the world to take charge at Metrolink, because most recently she was director, service delivery, at Yarra Trams in Melbourne, which has been operated by a joint venture of Keolis and Australian firm Downer Rail since 2009.
She said: "We are looking forward to working with TfGM, our partners and the community to implement our exciting plans for what is already a high-performing network. Our approach will be focused on collaboratively working to keep Greater Manchester moving and growing."
Features of the new contract include 'a major focus on improving reliability, and customer service and security'. There will be more staff on duty, particularly in the evening and at weekends.
KAM has undertaken to use local suppliers as much as possible, and at least 40 per cent of its contracts will go to firms within 40km. It will also create more than 300 jobs, of which over 60 have already begun with the recruitment of more drivers, customer service representatives and security staff, who are known as travel safe officers.