Posted 3rd August 2011 | 2 Comments
Stagecoach surrenders Metrolink without publicity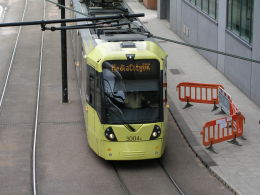 THE MANCHESTER METROLINK concession has been taken over by the French transport operator RATP, but the outgoing concessionaire, Stagecoach Group, has only admitted its transfer of the contract in a brief notification required by Stock Exchange regulations.
Stagecoach confirmed the deal in a statement in which it revealed that it had sold its its subsidiary Stagecoach Metrolink Limited to RATP Dev UK Limited, a wholly owned subsidiary of RATP Développement.
The Metrolink contract which has therefore effectively passed to RATP will continue to run until July 2017, but the sale means an early exit from the Manchester tram contract by the British group, which also holds the concession to run South Yorkshire Supertram in Sheffield. Stagecoach did volunteer that it is not planning any change to its Sheffield operations.
The transfer price has not been revealed, but Stagecoach said the gross asset value of SML was £16.2 million on 30 April this year. Stagecoach Metrolink is reported to have made a pre-tax profit of £4.1 million in the last financial year, with a turnover of £27 million.
The transfer of Metrolink, which is currently undergoing a major expansion programme, would have required the consent of Transport for Greater Manchester – Greater Manchester PTE – which continues to own the fleet and infrastructure.
Councillor Andrew Fender, who chairs the Transport for Greater Manchester Committee, said: "RATP Group has a span of expertise covering 12 countries and experience of carrying 12 million passengers a day.
"They will help us to continue to improve services, providing us with access to experts who are operating tram services and light rail systems in major cities across the world, from Paris and Florence to Seoul, Hong Kong and Mumbai.
"We welcome RATP to Manchester and are looking forward to working with them."
Apart from Stagecoach Supertram in Sheffield, the Group also operates the British passenger rail franchises South West Trains and East Midlands Trains and possesses a 49 per cent stake in Virgin Rail Group. In addition, it owns many bus companies in Britain and has significant interests in the United States and Canada, where it operates a fleet of 2,800 coaches.
Stagecoach Group profits rose to £191.2 million pre-tax in the year to 30 April, up from £125.9 million the previous year. Revenue was up by 10 per cent, to £2.39 billion.
Reader Comments:
Views expressed in submitted comments are that of the author, and not necessarily shared by Railnews.
It is a bigger disgrace that British tax payers paid for Metrolink to be built, Manchester passengers pay (not very cheap fares) to use it and tax payers money from the ten local authorities in Manchester subsidise it through Transport for Greater Manchester, when it primarily only serves three of those authorities at the present time (this will expand to include another three authorites following the current extensions), yet the proffits generated will go to France. Then again, isn't this the case with all rail infrastructure and services in the UK?

In my opinion it is a national disgrace that a French operator who refuses to deregulate and open its own domestic market, should come to Manchester..........presumably to seek profits.