Posted 15th May 2017 | No Comments
Metrolink outage 'not cyber attack'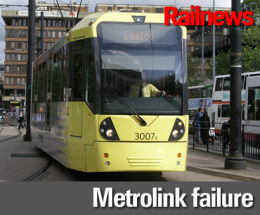 A CONTROL room failure which brought the Manchester Metrolink system to a standstill on Sunday was not connected with the cyber attacks which have damaged National Health Service systems, according to Transport for Greater Manchester.
The fault is now thought to have been identified and tram services are running normally today.
Services on Metrolink, which uses 120 trams to cover almost 100km of route, came to a halt shortly before 16.00 on Sunday, stranding thousands of passengers.
TfGM, which described its IT network as having 'high security levels', said the fault had not occurred before. A component had been 'sending out spurious communications, which resulted in the safety system correctly shutting down'.
The fault was corrected soon after midnight.
Head of Metrolink at TfGM Danny Vaughan said: "I'd like to apologise once again for the disruption caused on Sunday. We will conduct a review to look at what lessons can be learnt to avoid this type of issue occurring again."
The problem has arisen only a few weeks before the identity of the Metrolink operator changes. KeolisAmey will take over the concession from RATP Dev in July.