Posted 24th May 2013 | 8 Comments
Trams start running on new Metrolink extension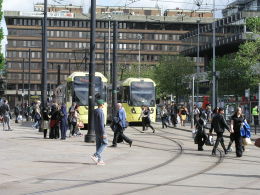 A second line across the city centre is being developed, because the number of trams running through the city in future will be too many for the existing line when new routes have been completed
THE LATEST extension to Manchester Metrolink has opened at least a month ahead of schedule.
Transport for Greater Manchester had earlier said that the 4.4km extension of the South Manchester Line to East Didsbury would open in 'summer 2013', but in fact trams began running on 23 May.
There are five new stops on the extension from St Werburgh's Road – at Withington, Burton Road, West Didsbury, Didsbury Village and the terminus at East Didsbury – where there is a 302-space car park.
Trams are running every 12 minutes during most of the day.
This latest extension takes the total Metrolink network route length to just over 73km. Councillor Andrew Fender, who chairs the Transport for Greater Manchester Committee, said: "It's fantastic to be able to announce the opening of this new line several months earlier than we expected.
"It's something that I, personally, have been promoting for more than 30 years, but for it to be complete so far ahead of schedule is a wonderful achievement, and my thanks for that go to TfGM, our local authority partners and, of course, our contractor, MPT.
"I am particularly pleased that the last government committed funding for this project before the last general election. This ensured that the contract was signed before the spending axe fell."
Councillor Nigel Murphy, executive member for Environment for Manchester City Council, added: "Having a well-connected city where people can easily access employment, social and leisure opportunities is absolutely fundamental to Manchester's future success."
Further lines are currently being built to Ashton, Oldham/Rochdale and Manchester Airport via Wythenshawe. A second line across the city centre is also being developed, because the number of trams running through the city in future will be too many for the existing line and its major junction at Piccadilly Gardens.
Reader Comments:
Views expressed in submitted comments are that of the author, and not necessarily shared by Railnews.
Lutz, London It was the Election of Boris as Mayor that destroyed London tram schemes in a massive destruction of schemes like Cross River Tram and Thames Gateway bridge in Eaśt London ahead of what was expected to be a Tory Government. However, Cameron let the side down by failing to win the election !

The West London scheme attached more opposition from NIMBYs but then Boris has thrown away hundreds of millions the WEZ raised and thrown away 400 perfectly good Artic buses and has now wasted £200 on Vanitybuses which private bus companies won't buy !

London is a city where cars pay very little service with the bulk of journeys made by public transport and it once had the largest tram network in the world !

Had Ken been elected in 2008 cross river tram and Thames gateway bridges would have now been completed !

The real failure has been the fact that Croydon Tramlink is still waiting for extensions !

John Gilbert, Cradley, Herefordshire

Unfortunately John, the ends of the second city crossing are situated in locations that have extensive high-rise development all around them. To build a delta junction at either end of the route would require third party land acquisition and the demolition of three or more buildings, two of which are occupied by banks.

Regarding the above reference to the Manchester Second City Crossing, it is to be hoped that Manchester will be courageous and ensure that the ends of this line are equipped with triangular junctions rather than straight wye connections. This would provide the city with a much greater range of options not only as regards regular services but in an emergency. Of course these junctions would cost more but the advantages would vastly outweigh that. So courage Manchester. Be bold.

@Melvyn Windebank, Canvey Island, Essex
The principle reason that the Cross London and West London tram schemes were cancelled was that Londoners did not want them.

The key blocker was that they would have run along busy vehicular arteries, reducing capacity on already saturated routes. They were essentially a fantasy and a voter honey trap.

Manchester's scheme has been a success from it's early days in part because it re-used existing rail routes that for the most part would not interfere with other traffic, and was relatively low cost.

The proposal to run trams down Oxford Road is a better comparison with the London tram proposals, and did not get off the ground for similar reasons.

Tram cars might make a comeback in London if cars became prohibitively expense, but that is not likely to happen in the near future with London's booming economy.


Congratulations all round. Trams (and U-Bahns) are the future of rail travel in this country and Europe and already move millions ever day in, out and around European Cities. By U-Bahn I mean tram/commuter lines that go into tunnels for the last few miles under major towns and cities. Lines such as the London Crossrail come under this heading as well.

Many Northerners complain about spending on transport in London and yet if only London had a tram network like Manchester instead of hundreds of buses crawling along with only a fraction of the capacity that trams provide !

Of course London has Tramlink in Croydon and yet despite much talk of extensions it is still the same network as when it first opened!

While plans for Cross London and West London trams were cancelled by Mayor Boris Johnson who preferes to waste hundreds of millions on vanity buses that simply have a hole cut in th back and thus needs tens of millions more waste on platform attendants to stop passengers falling off!

And to think that London once had the worlds largest tram network !

Perhaps once Boris has gone we might one day get another Mayor like Ken Livingstone who put public transport first and schemes like laying tram track on Westway !

And still the Edinburgh tram plods along at its own expensive pace...

This is great news though, I hope the Sheffield Supertram's extensions take a leaf out of our neighbour's book rather than Edinburgh's.