Posted 16th May 2017 | No Comments
Three new RMT strikes called over DCO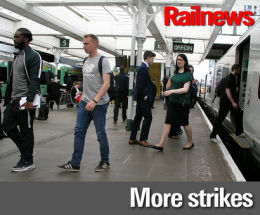 THE RMT has announced walkouts on Merseyrail, Northern and Southern on 30 May after talks to resolve the long-running driver-controlled operation disputes failed again.
Discussions had been taking place between the union and Govia Thameslink Railway this week, but after they adjourned it was only said that both sides were 'considering their positions'.
The latest sticking point as far as the Southern dispute is concerned appears to be a revelation that some 8,000 trains are expected to run over the coming year with only a driver on board, according to the RMT.
Southern's stance remains that an on-board supervisor will be carried as a second member of staff whenever possible but that a list of 'exceptional circumstances' must be allowed, when an OBS will not be on the train.
GTR HR director Andy Bindon said: "We are hugely disappointed that once again the RMT has called a strike, particularly since we put a further reasonable offer to the union.
"The RMT's proposals would mean cancelling trains and reducing service levels to our passengers. Our service levels are stabilising at the highest we've seen in years and we cannot agree to anything which will jeopardise running trains and the service to our passengers. With passenger numbers doubling every 20 years, railway capacity is being addressed by amodernisation programme that necessitates change. We ask the RMT to help us to underpin and maximise train frequency and capacity now and for the future."
However, RMT general secretary Mick Cash said: "We have met with the company but there is a massive gap of over 8,000 trains a year that GTR have confirmed will run without an OBS on board. That represents a serious safety and accessibility risk and short of the guarantee of a second safety qualified member of staff on Southern services we have no option but to confirm a further day of strike action."
Disappointment has also been expressed by Merseyrail and Northern, whose services are set to be disrupted on the same day in parallel disputes.
Merseyrail managing director Jan Chaudhry-van der Velde, whose network is facing its third strike, said: "We want to end this dispute as quickly as possible and are always prepared to talk to the trade unions. Over the last two months, we had several meetings with the RMT. In the last one, Merseyrail put forward a number of initiatives, which we were willing to explore through a series of working groups.
"These included having a second member of staff on trains after 20.00. Unfortunately, the RMT would not talk about these things unless we committed to a second safety critical person on every single train. In other words, it is not us that has turned down the working group, it's the RMT.
"We are disappointed that the RMT is not prepared to budge, but the RMT is stopping us find a resolution. Merseyrail has always been available for substantive, meaningful talks and will continue to be."
His colleague at Northern, deputy managing director Richard Allan, defended his company's proposed changes to on-board staffing. He explained: "We believe we would keep a second person on many of our services and, at some locations, we may choose to staff the station to give better support to customers."
Mick Cash of the RMT responded: "The sheer intransigence of Arriva Rail North means that we have no option but to confirm a further 24 hours of strike action. The responsibility for the inevitable disruption lies wholly with the company."
The RMT said it was 'angry and frustrated' over the deadlocks. Mick Cash added: "It is disgraceful that Merseyrail continue to refuse all reasonable attempts by the union to settle this dispute. Merseyrail have repeatedly kicked all conciliatory approaches by RMT negotiators back in our faces and made it crystal clear that all that they are interested in is the union signing a surrender document which gives them a free hand to rip apart the safety culture on the railway."
All three operators continue to maintain that safety is not at risk if conductors no longer have their former safety-critical role, pointing to recent statements by RSSB and HM Railway Inspectorate.
Rail Delivery Group chief executive Paul Plummer said: "More attempted RMT strike chaos would be bad for the economy, businesses and passengers, who have already been affected by previous efforts to disrupt the Grand National and the Tour de Yorkshire.
"A stronger railway needs everyone working together for the long term as we invest to improve journeys and in a stronger, more secure, skilled workforce with more opportunities for everyone."