Posted 22nd June 2017 | 4 Comments
More foreign contenders on franchise shortlists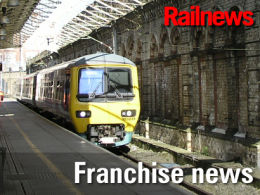 THE shortlisted bidders for two rail franchises have been announced by the Department for Transport.
They are the West Coast Partnership and Southeastern, and in both cases the existing operators are attempting to stay in control. There are also several foreign contenders for the two contracts.
For West Coast, Virgin and Stagecoach are bidding with SNCF, while another WCP bidder is a Chinese joint venture between MTR and Guangshen Railway Company. This bid is supported, unusually, by five named sub-contractors, who are the US-based accountants Deloitte, Panasonic Systems Europe, Swedish transport software developer Snowfall, Trainline.com and WSP Parsons Brinkerhoff.
The third contender is FirstGroup, which briefly won the Intercity West Coast franchise in 2012 before the competition was cancelled because of errors by the DfT. This time, however, First has also formed a joint venture for its second West Coast bid, with Italian operator Trenitalia.
Southeastern has attracted a shortlist of four. One is a joint venture of Abellio, East Japan Railway Company and Mitsui, which will be competing with three others: Stagecoach, Trenitalia and the incumbent operator Govia.
The West Coast Partnership franchise starts in April 2019, and will also include operating the first section of HS2 between London and Birmingham from 2026. The South Eastern franchise will change hands in December 2018, and the DfT said the winning bidder will be required to 'work as one team' with Network Rail. There will also be 'longer trains with more space'.
Transport secretary Chris Grayling said: "The West Coast Partnership will support growth and better services on the West Coast Main Line while helping to ensure that HS2 becomes the backbone of Britain's railways. I look forward to seeing the bidders' innovative ideas.
"South Eastern is one of the busiest franchises in the UK, running almost 2,000 services every weekday. We want passengers to be at the heart of everything that the new operator does, enjoying modern, spacious trains on a more punctual and reliable service. We will listen to what passengers say in the current public consultation, and we will seek to make changes and improvements only with their support."
Reader Comments:
Views expressed in submitted comments are that of the author, and not necessarily shared by Railnews.
I have no problem with overseas companies bidding to operate UK franchises, provided there is reciprocal access to their domestic markets for British companies.

I was hoping that 'Brexit' might bring more opportunities for UK companies overseas, and this is one example. The Chinese insist that when overseas companies 'invest' in their own domestic markets, ownership is 50/50; we ought to insist in these sorts of arrangements too.

I generally do not agree with Corbyn ; his wish for nationalisation is purely to give Len McCluskey his own personal train-set to play with. It does seem bizarre though that our government does not want to see re-nationalisation, but overlooks the irony that overseas publically owned companies now run our railways.......

Not Britain's Railway anymore should be called 'World Railways' and yet the old BR are banned from the tendering process farcical still the paint firms are rubbing their hands together not to mention the vinyl ones

And I thought that Brexit would of stopped foreign rail companies to take over the British railways or if Jeremy Corbyn was selected as PM. He would of given the idea of re-nationalise the UK's railways. But sadly Labour lost and Teresa May is still PM.

But the only 3 British rail franchises-First Group, Virgin and Stagecoach are still hanging in the balance despite losing their franchises to other foreign rail companies such as Abellio, Trenitalia, MTR Corporation, DB Schenker (Deutsche Bahn) Arriva, Japan Railways Co and Mitsui. National Express have lost their railway franchising but they could return.