Posted 21st June 2017 | 6 Comments
HS2 commitment confirmed in Queen's Speech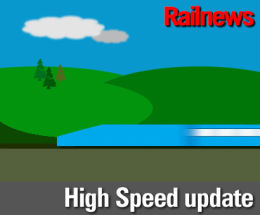 THE new Government says it intends to continue with work on HS2, including Phase 2a towards Manchester, which it describes as the 'next leg'.
The commitment is set out today in the Queen's Speech at the State Opening of Parliament.
Timetables for passing laws have been disrupted by the unexpected General Election, and achieving the new laws set out in this year's speech will cover two years of Parliamentary time, meaning that there will be no further timetable for legislation announced in 2018.
The present HS2 project will be bolstered by a new Bill for the high speed line between the west Midlands and north west England, which will be one of a series of laws intended to improve national infrastructure. Others will improve the public charging system for electric cars and authorise at least one spaceport. At the moment, contenders for this include sites at Prestwick and Machrihanish in Scotland, Llanbedr in Wales and Newquay in south west England.
Transport secretary Chris Grayling said: "We are absolutely determined to give Britain the transport infrastructure it needs so that we can thrive and grow as we leave the European Union.
"The measures we outline this week will ensure our legal structures are ready for the high skill, highly paid jobs of the future, while backing the transport projects that will make journeys better for ordinary working people.
"It's only by backing infrastructure through our Modern Industrial Strategy that we can spread prosperity and opportunity around the country."
Reader Comments:
Views expressed in submitted comments are that of the author, and not necessarily shared by Railnews.
I ought to clarify my earlier comments :

Yes, there has been much discussion re. HS2 among the interested wider population, but not, it seems, involving our political decision makers.

The ex - GC trackbed would need to be connected to the WCML between Rugby and Nuneaton ( with a new stretch passing to the west of Rugby) in order to give needed extra capacity at conventional speed . the line through Leicester, Nottingham, etc, is not a part of this proposal.

Birmingham and Manchester are, frankly too near to London for High Speed to attract a lot of new custom ; they are already well within day - return range. High Speed would probably give much more relative extra benefit if aimed at Scottish Central Belt and Northeast England , to give new day - return opportunities to London and become time - competitive with aviation. The per - mile costs of such an HS line are likely to be considerably lower on an East Coast alignment than on the current plan.

The Queens Speech was referring to phase 2a, Birmingham to Crewe. I cannot see phase 2b ever being built and the cost/benefits are so poor. Having HS2 from London to Crewe, means the congested WCML is alleviated and turned over to commuter services. That is the prime aim of HS2. The WCML handles twice the traffic of the ECML.

New train technology and removing bottlenecks on the ECML gives a London to Leeds time about the same as the proposed HS2. Newcastle would benefit from an ECML upgrade. In time Sheffield could have fast services to London using an electrified MML. In short they stay on the same lines with superior trains and bottlenecks removed.

HS2 from London to the Crewe junction means, Birmingham, Liverpool, Chester, Manchester, Glasgow and Edinburgh have vastly reduced journey times from London. Have tilting HS2 compatible trains and times are faster again.

HS3/NPR/Northern Crossrail from Liverpool to Hull will give a linear hub intersecting the WCML, ECML and hopefully the MML.

HS2 from London to Crewe, preferably with the high-speed Crewe Hub, is all the UK needs.

So how about instead of "at least one spaceport", they invest the unimaginable billions that would cost into useful (Earth-bound) transport infrastructure, or into the NHS and care for the elderly, disabled and mentally ill, into education, into adequate (preferably non-lethal) social housing, into police resources for combatting terrorism... you know, into pretty much anything else that would improve the majority of people's lives. When all of those things are among the best in the world as befitting GREAT Britain, then we can dream of spaceports.

Good to see the continued commitment to HS2, though it remains to be seen whether the current government will last more than a few weeks, let alone long enough to see the remaining HS2 bills passed through parliament. Fortunately, HSR all the way to Scotland was in Labour's manifesto, so either way it seems a dead cert.

HS2 does benefit from support on both sides of the house and thus is not affected by the latest election result.

This next section 2a is also a much simpler extension as it contains no new stations being an extension of the new line from Birmingham to near Crewe and it follows the recommendation of Lord Adonis to speed up delivering HS2 benefits earlier than having to await construction of the full stage 2 of HS2 .

We will have to await the 2nd reading of this bill to see what effect the election has had on support and opposition to HS2 with Cheryl Gillian still in post to no doubt oppose the bill.

Given this Spech covers 2 years the absence of mention of Crossrail 2 is worrying?

The issues surrounding HS2 have been debated extensively. Nevertheless, big questions remain whether the current proposal is the optimum solution to the aims it espouses :

Is the routing one that gives the best potential benefit / cost results?
Could the needed capacity relief be achieved much more cheaply with a new conventional - speed line( using the ex - GC trackbed , for example )?
Is high - speed passenger service the most pressing need? Or should new construction cater to North - South freight traffic ?

These sort of issues don't seem to have been addressed, whilst Westminster / Whiehall seem to unquestioningly endorse the existing plan. Why ?

[HS2 has been discussed for almost ten years, and there has been no shortage of alternative proposals which have been aired exhaustively (and exhaustingly). The former Great Central (also repeatedly suggested) is not suitable for 300km/h+ running, even if its structure gauge is larger. It is also perhaps questionable whether Britainís first domestic high speed line should concentrate on linking London, Leicester and Nottingham.--Editor]