Posted 8th October 2012 | 3 Comments
Special West Coast edition of Railnews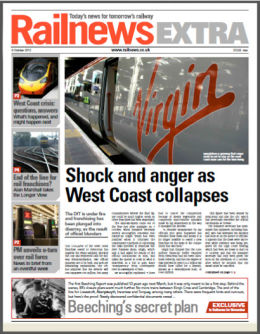 RAILNEWS has produced a special PDF edition of the industry's only newspaper, following the remarkable events of last week in which the DfT cancelled the award of the Intercity West Coast contract to FirstGroup.
The extra issue provides a blow-by-blow account of events so far, including a page of questions and answers about the West Coast crisis. Regular columnist Alan Marshall asks what the future of rail franchising might be now, and there is also a page of other news.
Railnews managing editor Sim Harris said: "When we went to press as usual on 28 September, the industry still thought First could take over West Coast on 9 December, although there was the great unknown posed by Virgin's impending hearing in the High Court.
"As we now know, everything changed on 3 October, and we felt an extra issue of Railnews was amply justified to give more coverage of these landmark developments."
The new edition, called Railnews Extra, is available for unrestricted download as an PDF file.

Click here for your copy, and please feel free to pass it on to colleagues.
The next print edition of Railnews will be published on 7 November. To subscribe for a full year, please click here.
Reader Comments:
Views expressed in submitted comments are that of the author, and not necessarily shared by Railnews.
West Coast is the most financially advantageous of all the train operating franchises which is why Branson wanted to hang on to it and First is keen to get hold of it. For both companies, it must add significantly to their shareholder dividend - the Telegraph reports Branson as having made £200m from West Coast.

As Joel quite rightly says, rail franchising has been shown for the practice it is - private companies being able to print money at the expense of:

*passengers with ever increasing fares (even if the latest increase has just been capped at RPI+1%);

*the tax payer with subsidies that guarantee private companies profits (run that pass me again - but it's true - look at the accounts of the likes of Arriva Trains Wales, not to mention many others)

*as well as the staff who face ever increasing pressures against a threat of job cuts and accusations that they are paid too much (McNulty - need I say any more?).

What has been exposed by the fiasco is that the gravy train needs to come to an end and the true owners of the railway - the tax payer and the government - should see the record profits re-invested in the asset that the railway is, under public ownership. It's only political dogma that is preventling it.

What more evidence is needed that private utilities are vehicles for profit with infrastructure and people needs a poor second? No government will do what is obviously needed. Public ownership, value for money enforceable service contracts and transparent management.