Posted 29th March 2017 | No Comments
Rail suppliers' warning over Brexit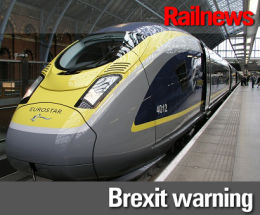 THE Railway Industry Association is planning high-level talks with the government over the future of railway supply chain companies in the UK, following the signing of Article 50 of the Lisbon Treaty by the Prime Minister today.
The historic act by Theresa May marks the beginning of the United Kingdom's departure from the European Union, and two years are allowed for negotiations over future trade relations to be completed.
But supply chain companies are anxious to ensure that the railway industry is represented properly.
RIA chief executive Darren Caplan said: "Rail makes a substantial contribution to the UK economy. Over the last 20 years passenger numbers have doubled and freight volumes increased by 70 per cent, enabling the productive potential of the UK economy to increase by £11.3 billion. In the next 30 years passenger numbers are set to double again and freight set to grow further. The rail supply chain alone will directly employ well over 125,000 people, with £90 billion already in the domestic rail infrastructure pipeline.
"With this background, Brexit presents the industry with both challenges and opportunities. The Railway Industry Association will seek to be specifically included in any Brexit agreement negotiated, ensuring UK railways sit alongside automotive and aerospace as one of the Department for Exiting the EU's top transport sectors."
Trade in railway products and services with the rest of the EU has been significant for many years. Many trains now running in Britain, including the new Eurostar fleet as well as many hundreds of Desiro units, were built in other parts of the EU by Siemens. Virgin Pendolinos came from Alstom, which built the last tranche in Italy, while the Bombardier Voyager fleets were assembled in Belgium. Bombardier has also constructed many British trams in Austria, and more rolling stock is currently on the way from Germany and Spain.
Darren Caplan continued: "We will work with the UK Government to maintain trade in as frictionless a manner as possible, for example on standards and tariffs, and we will seek to ensure our industry continues to have access to an adequate supply of skilled labour from the UK and around the world, regardless of the outcome of these negotiations."