Posted 13th July 2016 | 3 Comments
Siemens u-turn over Brexit implications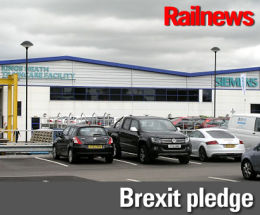 SIEMENS has said it will continue to invest in Britain, as the implications of the forthcoming Brexit continue to sink in.
The company, which employs 14,000 people in this country, had warned its workforce before the referendum that a vote to leave could force it to reconsider its activities in the UK.
Siemens works from 13 locations in Britain, and its railway businesses include maintaining the large fleets of Desiros for South West Trains and London Midland.
The new fleet of Siemens Class 700 trains for Thameslink is now coming into service -- the first train to carry passengers ran between London Bridge to Brighton on 20 June -- and Siemens has also invested in a rail training academy at Northampton as part of the Thameslink deal.
Although there had been concern that a vote for Brexit could lead to a reduction of Siemens activities in Britain, chief executive Joe Kaeser told a media briefing at the House of Commons that the UK 'continued to matter', and that this country continued to be a 'good place to do business'.
However, he added that clarification of the UK's future trade position was needed as soon as possible.
Reader Comments:
Views expressed in submitted comments are that of the author, and not necessarily shared by Railnews.
They clearly pressed the wrong buttons into their computers, just like in the film Willy Wonka and the Chocolate Factory!

It was obvious that with the £ dropping 10% in Value everything made in the UK - like German BMWs - are now 10% cheaper to sell to the rest of the World including Europe and Germany. British Companies are reporting huge increases in order books from Rolls Royce Cars to Film making at Pinewood Studios. Brexit will actually re-balance the British Economy helping our Manufacturing and exporters, reducing imports and reducing the Trade Gap. Why on earth did anyone think otherwise ? Now is the time for all British Manufacturers to get on the phone to overseas buyers and shout how good are goods are, both in terms of price and quality. Rail Freight should look forward to at least 10% increase in Business.