Posted 17th March 2017 | No Comments
Dates announced for Night Tube walkouts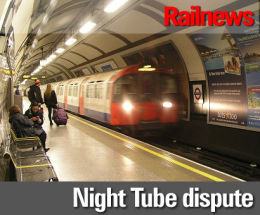 TWO strikes on London Underground's 24-hour services have been announced by the RMT, following a ballot which resulted in a decisive vote in favour of action.
RMT members will walk out on the nights of 8-9 and 29-30 April, disrupting Saturday night services on the lines which form the Night Tube network. This network includes most of the deep tube lines with the exceptions of the Bakerloo and Waterloo & City lines.
The dispute concerns employment opportunities: the RMT claims that London Underground has blocked career progression for train operators who work through the night because they cannot move into vacant full time positions for at least 18 months. Operators also do not qualify for overtime rates until they work more than 35 hours in a week. At the moment, they are employed for only 16 hours a week because Night Tube services are restricted to Friday and Saturday nights, with maintenance being carried out during the rest of the week.
RMT members voted this week by over 96 per cent for strikes and by over 98 per cent for action short of a strike.
RMT general secretary Mick Cash said: "It is outrageous that London Underground have decided to discriminate against their Night Tube drivers. This is a senseless and damaging policy that picks out one group of staff for negative treatment and of course the drivers are angry and that is why our members have voted overwhelmingly for action. Our Executive has now considered the current position and has concluded that we have no option but to move forwards with the announcement of these strikes."
"RMT would call on LU to see sense, stop these stupid attacks on career progression and fair reward for overtime working and confirm that this discrimination against the Night Tube drivers has been lifted."
After the ballot rresult, London Underground operations director Peter McNaught had said: "Night Tube services have been running since August last year in line with agreements reached with the unions. We have invited the unions to more talks this week and I encourage them to continue discussions with us rather than threaten industrial action."