Posted 10th November 2015 | 1 Comment
Night Tube no nearer, but staff are costing £1.5m extra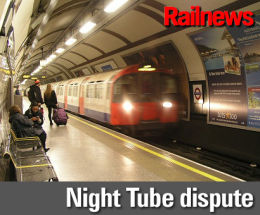 TRANSPORT for London has come under fire because it is spending a reported £1.5 million extra a month employing staff for additional Underground services which have yet to start running.
Plans for 'Night Tube' services on several lines on Friday and Saturday nights remain stalled because unions will not agree terms, although the 24-hour services on much of the Central, Jubilee, Northern, Piccadilly and Victoria Lines should have been launched in September.
The start date has been postponed to next year, and the Mayor of London Boris Johnson has refused to show public disappointment over the delay, although he has blamed the failure to reach agreement with the rail unions on 'Corbynmania', claiming that the election of Jeremy Corbyn as Labour Party leader has been used by the unions to make a political point.
Meanwhile, talks between TfL and the unions are due to restart at ACAS this week, and TfL has denied that it is wasting money.
It said 307 of the new staff are occupying part time station positions, and that others have jobs in engineering or control. It also pointed out that numbers will stabilise themselves in the near future as some staff resign or retire.
However, critics remain unimpressed. Labour's transport spokeswoman on the London Assembly Val Shawcross said: "They've obviously pressed the button too soon."
The RMT has already staged strikes in protest at the Night Tube proposals. General secretary Mick Cash said: "Our members have made it clear that they are determined to protect their work/life balance and not fall into a trap where they will be forced to wreck their home lives in order to comply with the 'rosters from hell' which have been drawn up to plug the staffing gaps in the Night Tube plans."
Reader Comments:
Views expressed in submitted comments are that of the author, and not necessarily shared by Railnews.