Posted 25th January 2017 | 5 Comments
Bill to limit effects of rail strikes rejected by MPs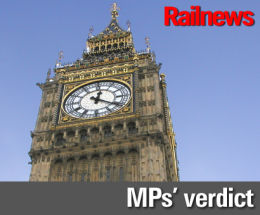 A BID to impose new limits on the power of unions to call strikes, such as the present industrial action on Southern, has fallen at the first hurdle in the House of Commons.
Only 127 MPs voted in favour of allowing a proposed 'Industrial Action (Protection of Critical National Services) Bill' to be given further readings, while 206 opposed it.
The Bill had been put forward by the Conservative MP for Croydon South Chris Philp under the Ten Minute rule, which allows individual MPs to suggest legislation.
He told MPs that he had been hearing 'heart-rending' stories from some of his constituents whose lives had been disrupted by the strikes on Southern.
During the brief debate he also called for Southern's franchise to be terminated, saying that the operator 'must shoulder a great deal of blame' for the long-running dispute over driver-only operation, which has led to a number of strikes and a drivers' overtime ban. After praising the history of the union movement in improving workers' conditions, he continued: "I understand that the right to strike is inseparable from the struggles that led to these victories that have helped to civilise our country. But we must also recognise that strikes have a profound effect on the wider public, especially where those strikes occur on critical national services. It is time to consider again the impact that strikes have."
Under his proposed law, a High Court judge would have been required to rule whether proposed industrial action was 'proportionate'. Complete stoppages in essential industries and other public organisations such as the NHS would have been banned, with 'skeleton services' legally required to continue.
He explained: "In this case, I do not believe that the unions have a substantial complaint. No one is losing their job. No one is getting a pay cut. Every single train currently scheduled to run with two members of staff will continue to be scheduled to run with two members of staff. The dispute centres simply on who opens and closes the doors, and whether the train can still run if the conductor does not turn up for work. The rail regulator says that ​there is no safety issue, contrary to the union position."
However, Labour MP Kevin Brennan, who represents Cardiff West, said: "We all know that if the Bill were allowed to proceed, it would simply be the thin end of the wedge of even more anti-trade union legislation from the Conservatives, because this is what they do when they are in power—dogs bark, birds fly and Tories attack workers' rights.​
"The hon. Gentleman framed his Bill specifically as a response to the Southern rail dispute, but of course it goes much further, as it covers transport in general, the national health service, and fire and ambulance services. This is not just about one industrial dispute, whatever its rights and wrongs. The Bill is about further restricting the long-fought-for right of workers in a free society to withhold their labour."
Meanwhile, negotiations between Govia Thameslink Railway and the Department for Transport over whether GTR is in breach of its contract have now been running for almost a year. GTR has maintained that it is a victim of 'force majeure' -- in other words, that its failure to meet performance targets has been caused by circumstances beyond its control.
The Commons Transport Committee has published a letter from rail minister Paul Maynard which was written last week, in which he says: "I agree that it is important to understand whether GTR have breached performance benchmarks, and that we must do the right thing for passengers and taxpayers. It is important to note that termination of the franchise may be an option available to the Secretary of State and is not an absolute duty should GTR be found to have breached their targets."
Louise Ellman, who chairs the Committee, responded: "GTR's claims for force majeure were made ten months ago. While the Transport Committee appreciates the complexity of the situation, the Department must state publicly whether the company is in default of its contractual obligations.
"The Department for Transport has a duty to act decisively in the best interests of passengers and taxpayers. At the last forecast, the Department had already incurred losses of £38 million in revenue - a figure likely to rise. Ministers cannot duck this issue. The Committee will continue to push for openness and clarity."
Reader Comments:
Views expressed in submitted comments are that of the author, and not necessarily shared by Railnews.
The need for a Guard/Conductor should depend on length of train, number of passengers, station layout etc. A 12 Car Train on the Brighton Line at Peak Times may well warrant additional Train Crew. A 4 Car Train on the Mid-Sussex Line through Pulborough on a Sunday does not. Somewhere in the middle is a Compromise just waiting to happen.

What is not clearly understood by both the media and some MPs is the difference between a Concession and a Franchise and how this affects what the company providing the service can do in situations like that at Southern.

When it was let the new TSGN was let as a concession because it was obvious that with all the disruption and changes to services which would affect what had been 4 seperate franchises it made sense for the DFT to take the revenue risks .

However, being a concession means that Govia cannot deal with issues in the same way as when its a franchise as it only operates the services on behalf of the DFT who are its paymasters and therefore the buck stops with the DFT on Chris Grayling desk !

As for arguments about DOO or even Driver Controlled Doors many argue about trains that already operate using DOO but this ignores the fact that new trains are also longer trains with 12 carriages on Class 700 which are almost a quarter of a mile long replacing just 4 carriages on Class 319s which are sometimes coupled together to form 8 carriages so how many 12 carriage or equivalent length trains operated using DOO before class 700s were introduced ?

I regularly use C2C which still uses guards and on 12 carriage trains the guard is usually at the rear of the 8th carriage which means he can check 8 carriages in front and 4 carriages behind a useful feature in dark, dank foggy winter days ...

One has to ask how much of these problems arise because issues like these are not dealt with by joint boards representative of both sides instead of dictacts being issued safe in the knowledge that anti union press will blame unions and take no notice of other issues until a disaster happens and then they ask who is to blame ?

While the changes to government post Brexit vote has added to the problems given Grayling v Khan awakens old battlers from the past!
(The TSGN franchise is NOT a concession. It is an unusual franchise where the franchisee takes only the costs risk. --Editor. )



Good. At least we still have the unions & their members able to protect safety on the railway as a last resort. The complete mess on Southern, as far as I can see, has been caused by the arrangements the DfT came up with for the "franchise", with GTR left with nothing to lose if the whole operation grinds to a halt. With this sort of shambles in charge of our railways we need the actual train crews & their unions to be allowed to take the difficult decision & democratically say enough is enough.

"The labour party as the unions lackies..."

Maybe they are. But Grayling and the Tories are equally corporate lackeys.


Well. If i was an MP the proposal would hVe my vote. This whole situation is ridiculous and tottally disproportuonate. Luckily i am not affected by it bu colleagu in my office are. The stress and anxiety it causes them to get to work to ensure that they themselves can do their safety critical work to keep london moving is shocking. The unions have a political agenda and their members are just sheep. Ban this type of actionand have a judicial process. We all know the labour party as the unions lackies would object anyway.